In Round 14 of Serie A, one of the key battles took place on Saturday night as Juventus hosted Atalanta, who were looking for their first away win against the Bianconeri since 1989.
Juventus went into this game having suffered a heavy 4-0 defeat to Chelsea in the Champions League in midweek. However, they have been on the up in the domestic league in recent weeks, winning their last two games against Lazio and Fiorentina before the trip to London.
Atalanta, on the other hand, were unbeaten in their last seven games prior to the trip to Turin, winning three and drawing four.
The following tactical analysis will break down the key patterns of play for both teams and explain the intricacies of their tactical approach to the game.
Team Lineups and Formations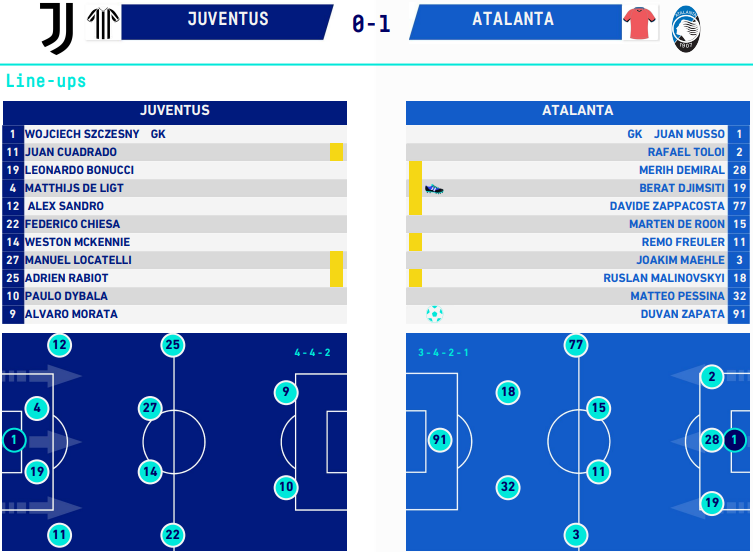 As for the team lineups, both managers kept the same tactical formations they have used so far this season. Juventus opted for a traditional 4-4-2 set-up at first glance, but as the graphics of the player positions suggest, they switched to a 4-3-3 formation. In contrast, Atalanta lined up with a three-man backline, more specifically a 3-4-2-1 tactical set-up.
Juventus' main tactical tweak was to deploy Federico Chiesa on the left wing, while Paulo Dybala occupied a more right-sided position, operating in the half-space, but also moving around a lot and dropping deeper into midfield. Juventus' midfield trio consisted of Adrien Rabiot, Manuel Locatelli and Weston McKennie, with Rabiot occasionally moving wide.
Atalanta relied a lot on wing play, with Davide Zappacosta and Joakim Maehle heavily involved in the team's attacks down the flanks. Remo Freuler and Marten De Roon were tasked with protecting the back three, but they also had license to make forward runs and unleash shot attempts from distance. Duvan Zapata started the game as a lone striker, but was not fixed to one position and was involved a lot in the link up play.
Tactical Analysis – Atalanta
The way Atalanta approached this game was nothing like we have all been used to in recent seasons under the leadership of Gian Piero Gasperini. Although the time Atalanta spent in possession in the first half was in line with their season average at 55%, it dropped to just 41% in the second half and they were not as incisive and free flowing as they could be when they are in full attack mode. They only recorded 1 shot on target and 1 big chance during the entire 90 minutes, which was far below their usual standard this season: 4.6 shots on target and 2.4 big chances.
The reason for this was Gasperini's tactic of setting his team up to take care of the defensive side of things first and generally be a bit more cautious in possession. Atalanta were very aggressive defensively though and kept pressing high up the pitch, resulting in 35 team pressing actions – the highest number so far this season.
In the images shown below, we can see this tendency described above. When Atalanta press deep into the opponent's half, they do so in a man-to-man manner that makes it difficult for the opposing team to play their way out of such pressing. As it turned out, this tactic worked well for the most part, as Juventus lost 31 balls in their own half in this game, which is almost double their league average of 17.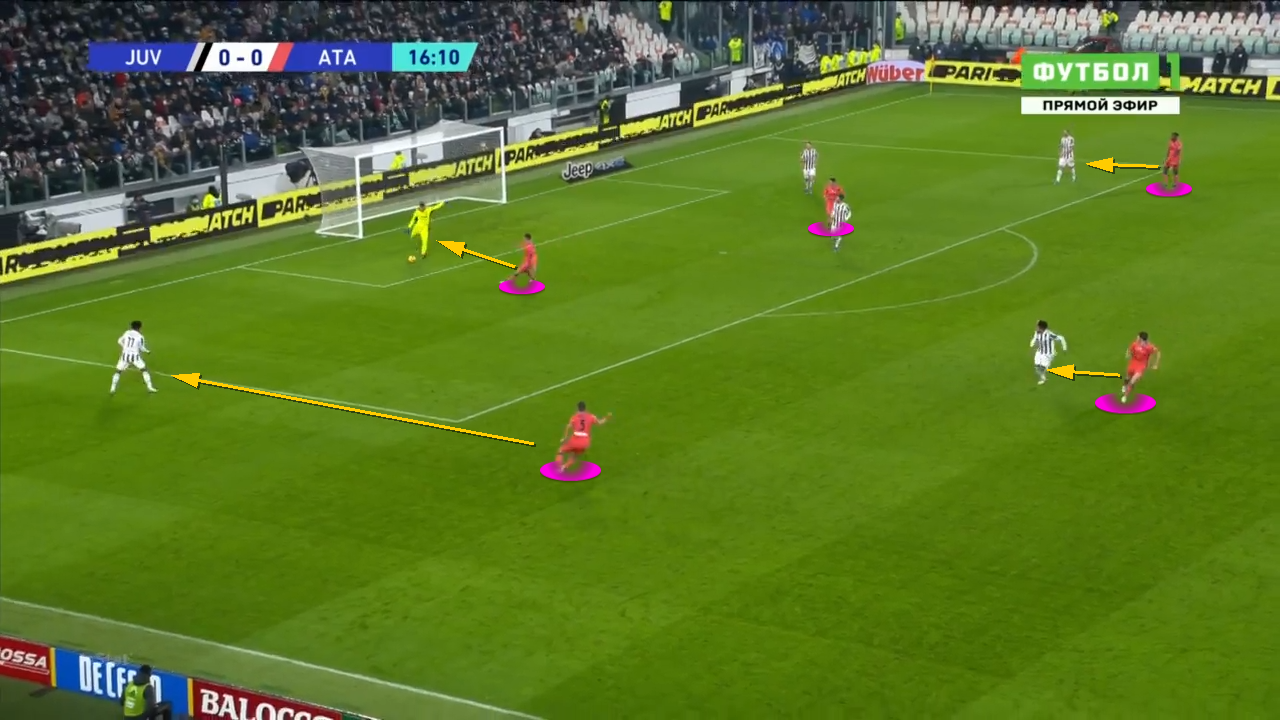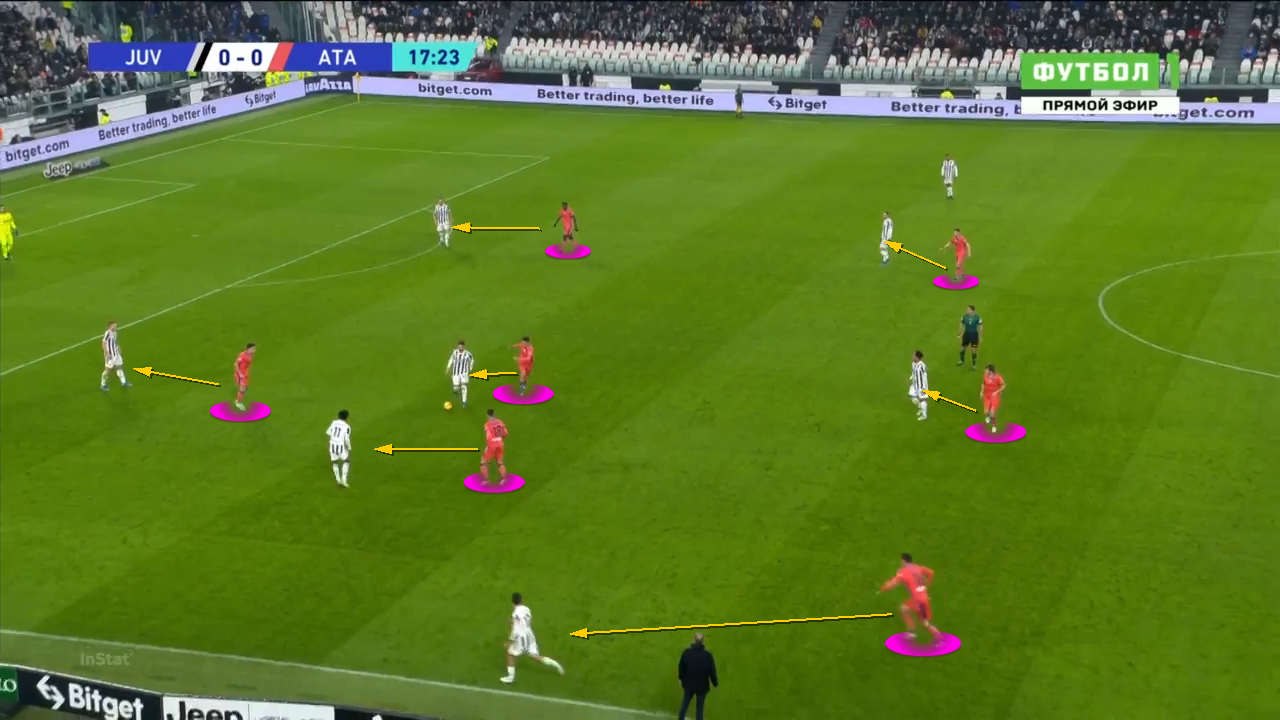 In possession, Atalanta wanted to attack mainly through the flanks, as shown by the statistical data which shows that in total 82% of all Atalanta's attacks were through the wide spaces. Initially, they always tried to overload one side of the pitch to draw Juventus' players to that side of the ball, which automatically underloaded the far side for switching play.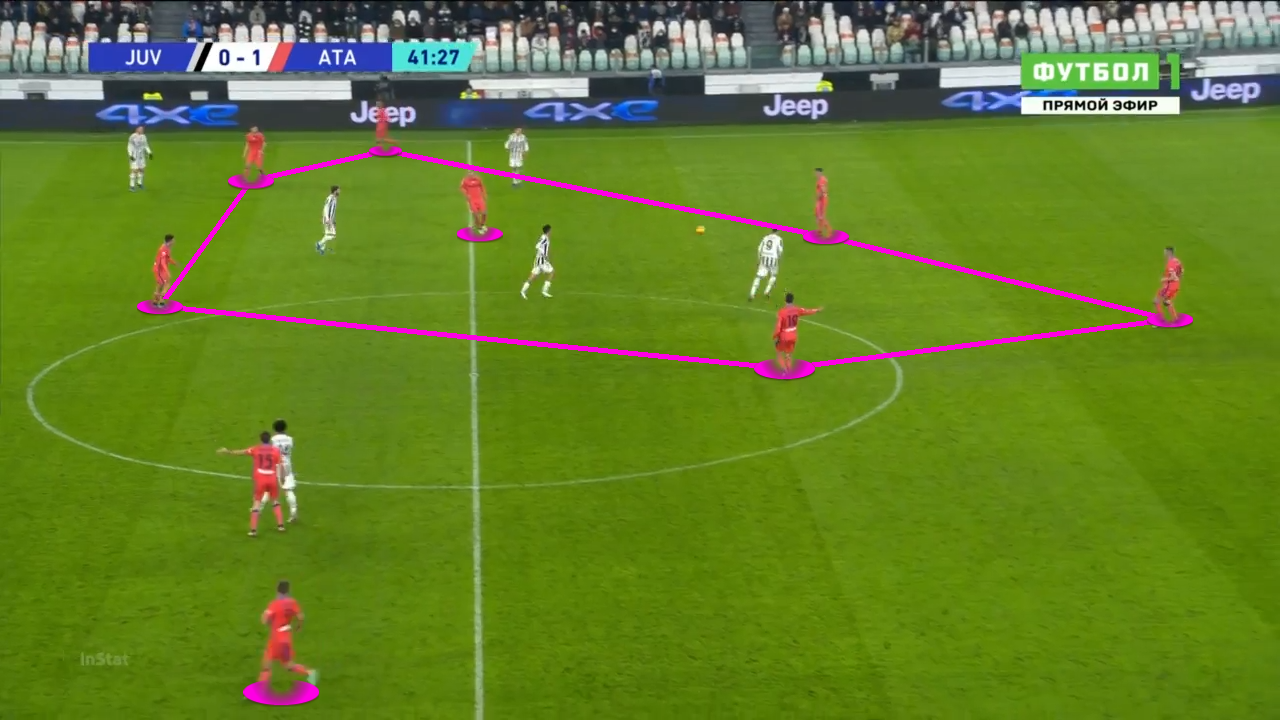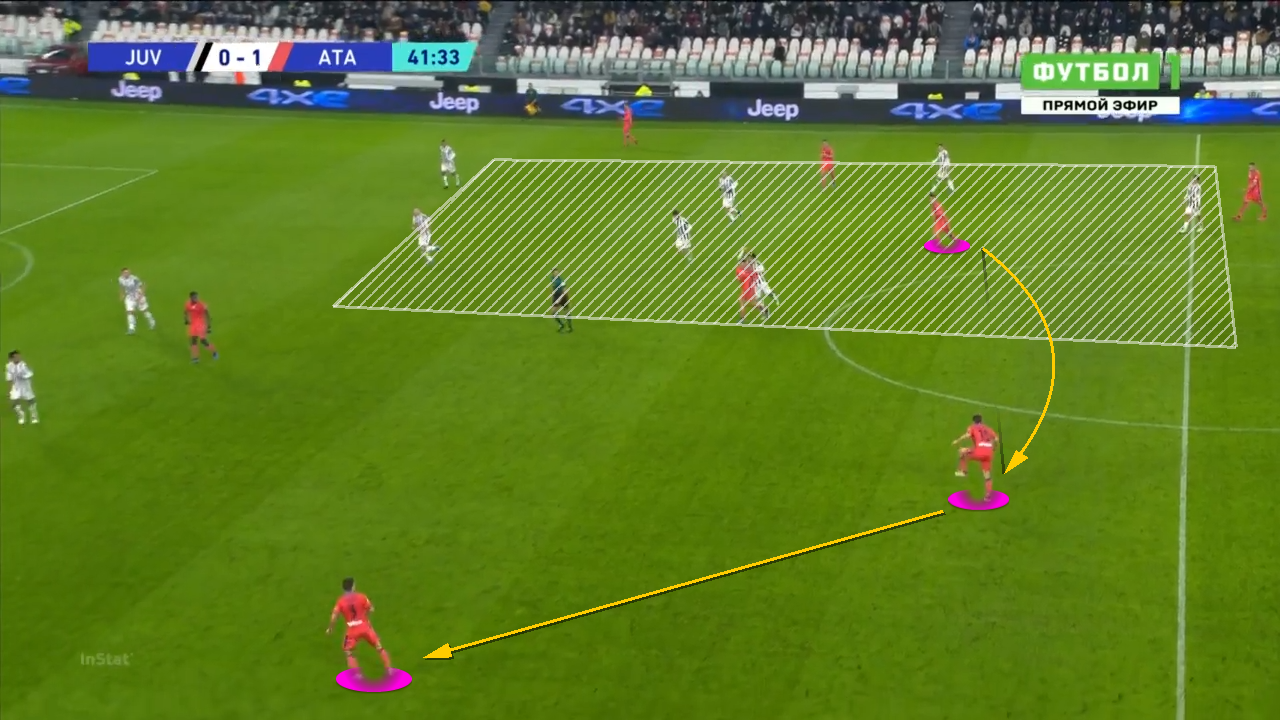 They would continue to find a way to break down Juventus' defence through the half-space and wide area, but failing that, Atalanta would play the ball back into their own half and resume the build-up.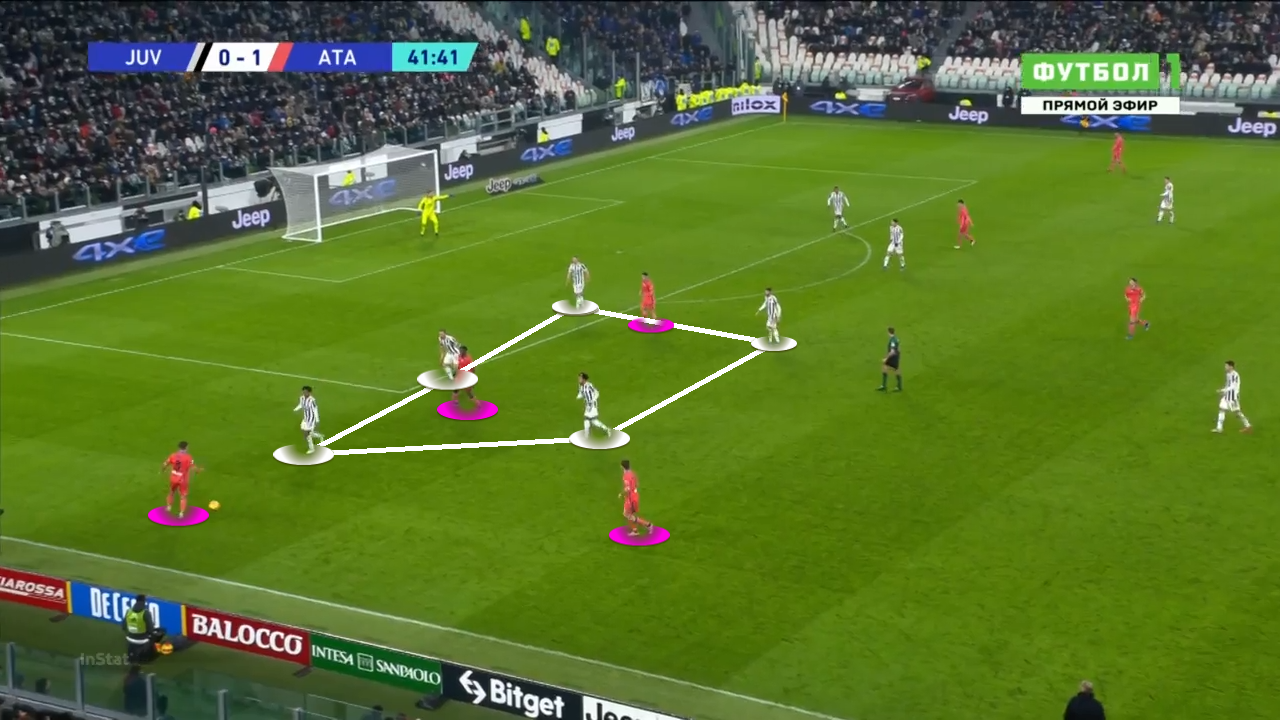 The idea behind this was to invite Juve to press deeper in their own half, forcing them to move the defensive line higher. This meant Atalanta could play through their pressing with balls over the top and let Zapata run at full pace into wide spaces, stretching Juventus' defensive line even further.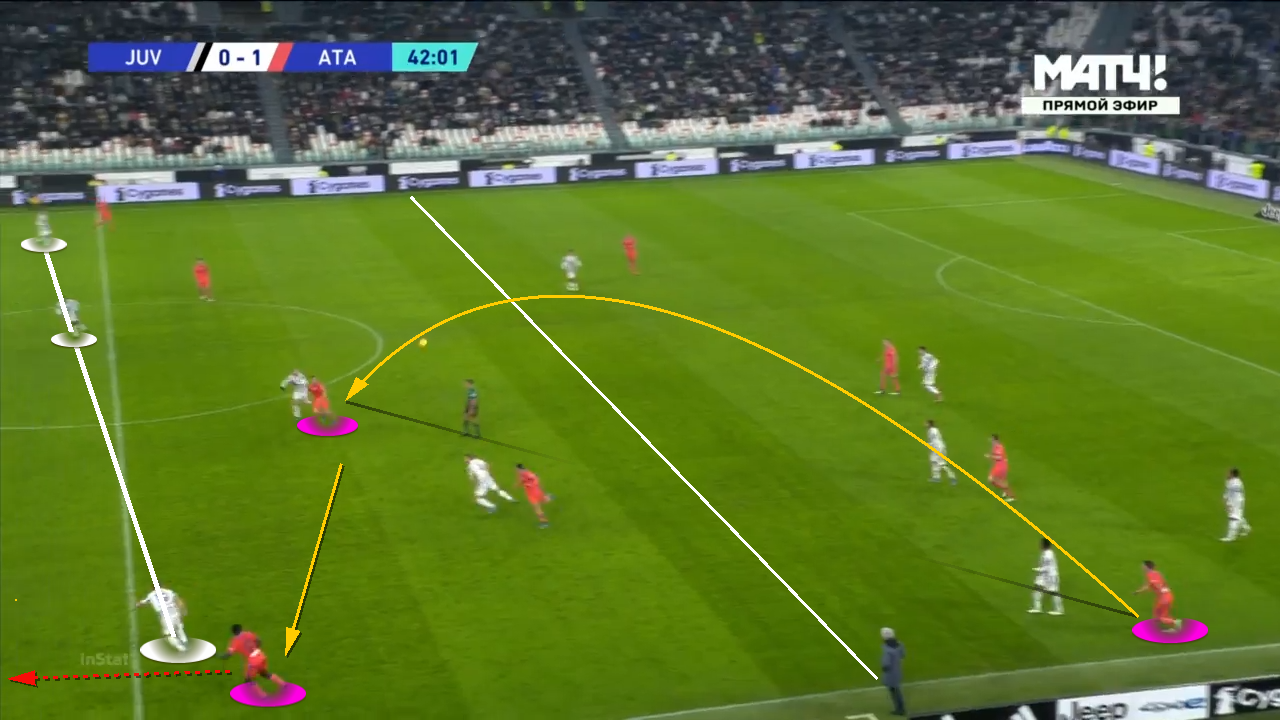 Tactical Analysis – Juventus
The Bianconeri were the more dominant team in terms of possession, as they averaged 59%, but that was more due to the way Atalanta approached the game than their excellent tactical structure. As mentioned earlier, Juve were often pushed deep into their own half by Atalanta, resulting in a high number of passes in their own half. In this game, Juventus played 289 passes in their own half, while in the opponent's it was only 161, indicating that it was difficult for Juve to find a way through Atalanta's defensive lines. Furthermore, the home side only played 66 passes into the final third, compared to Atalanta's 91.
Juventus struggled to break through Atalanta's high pressing and often opted for long ball tactics, which meant they had to fight for second balls. There were a few moments during the game when Juve were able to win the second ball and had the chance to break away in transition. However, they often lacked fluidity and speed in these situations, allowing Atalanta to retreat defensively and forcing Juventus to start the build-up from their own half again.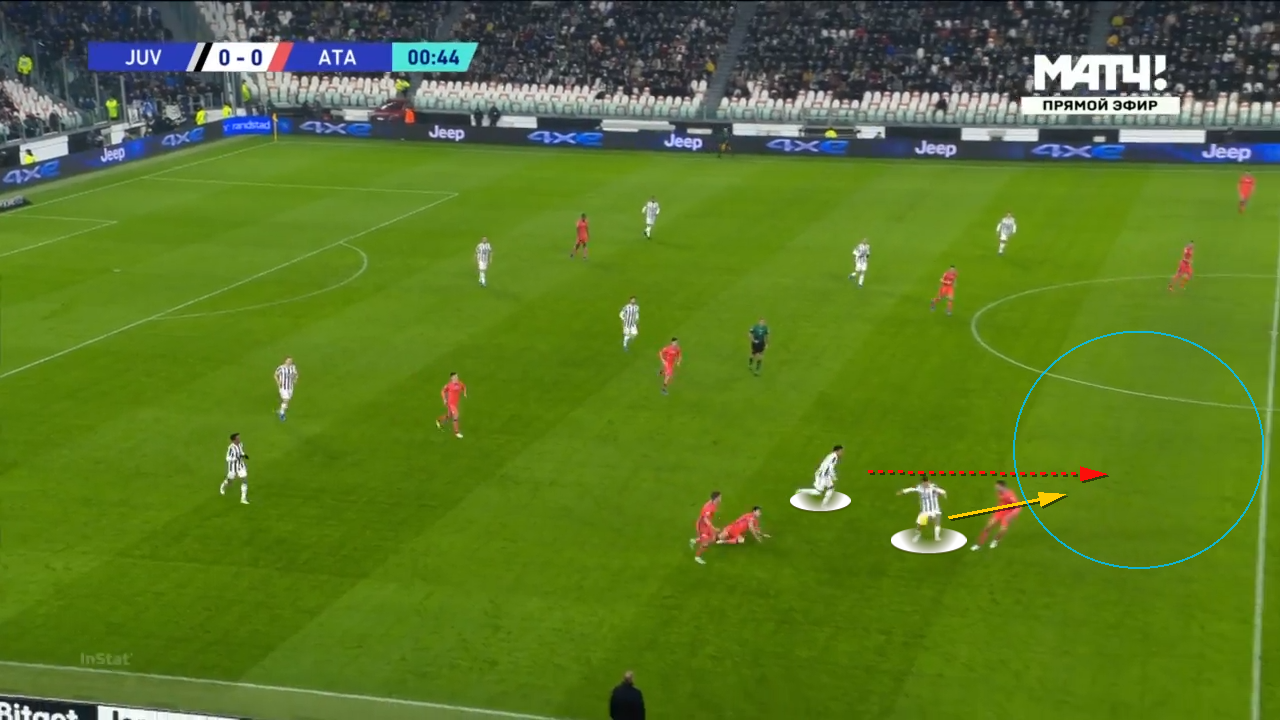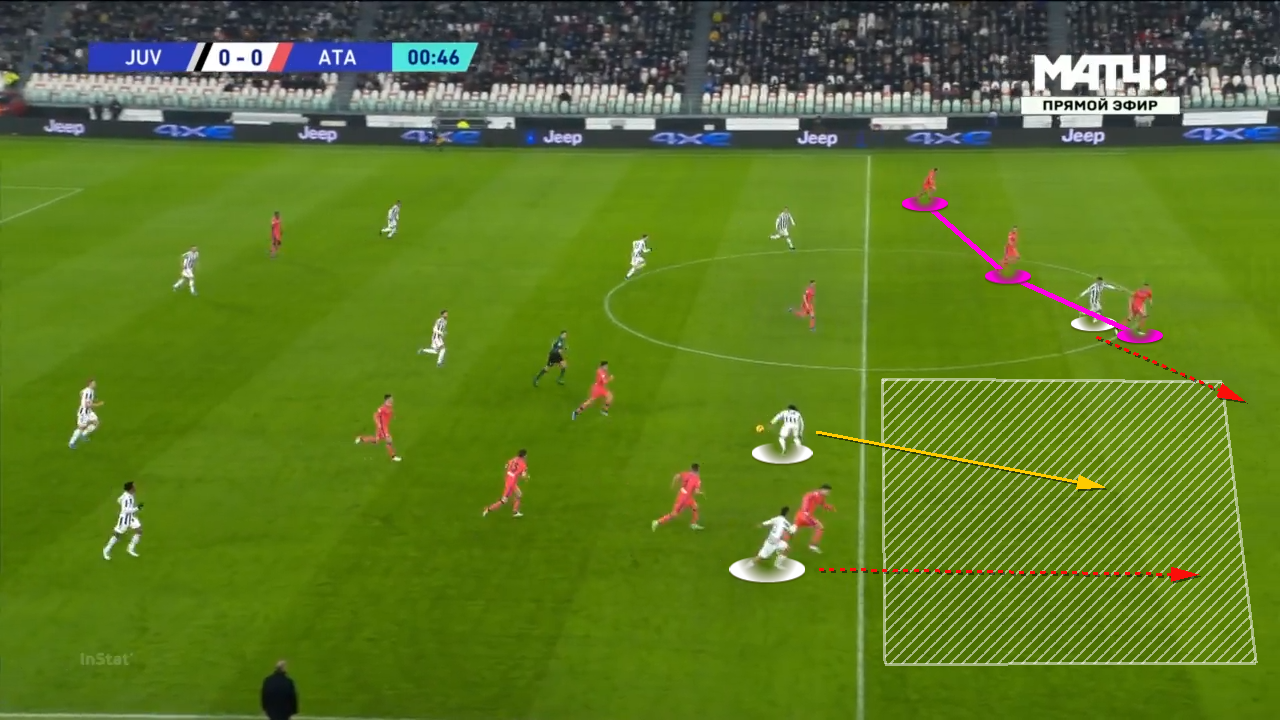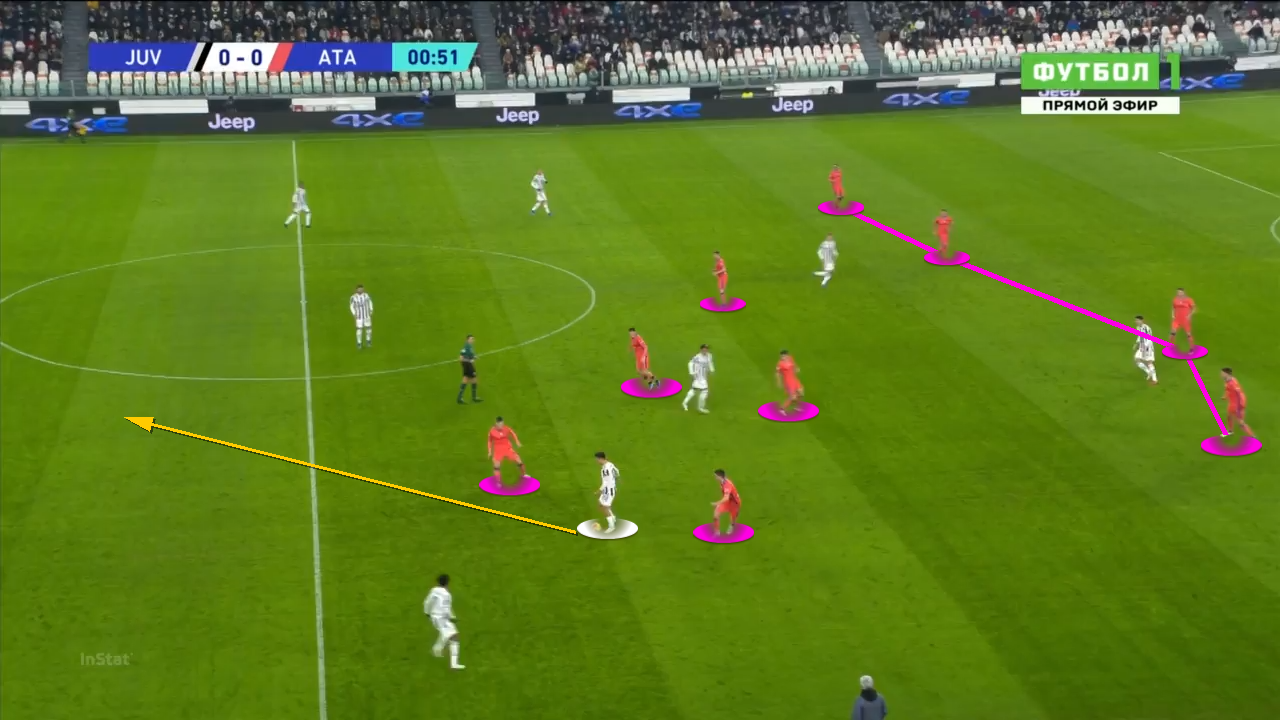 When Juve managed to get into the final third, they often lacked ideas and could not find a way to penetrate Atalanta in the areas around the box.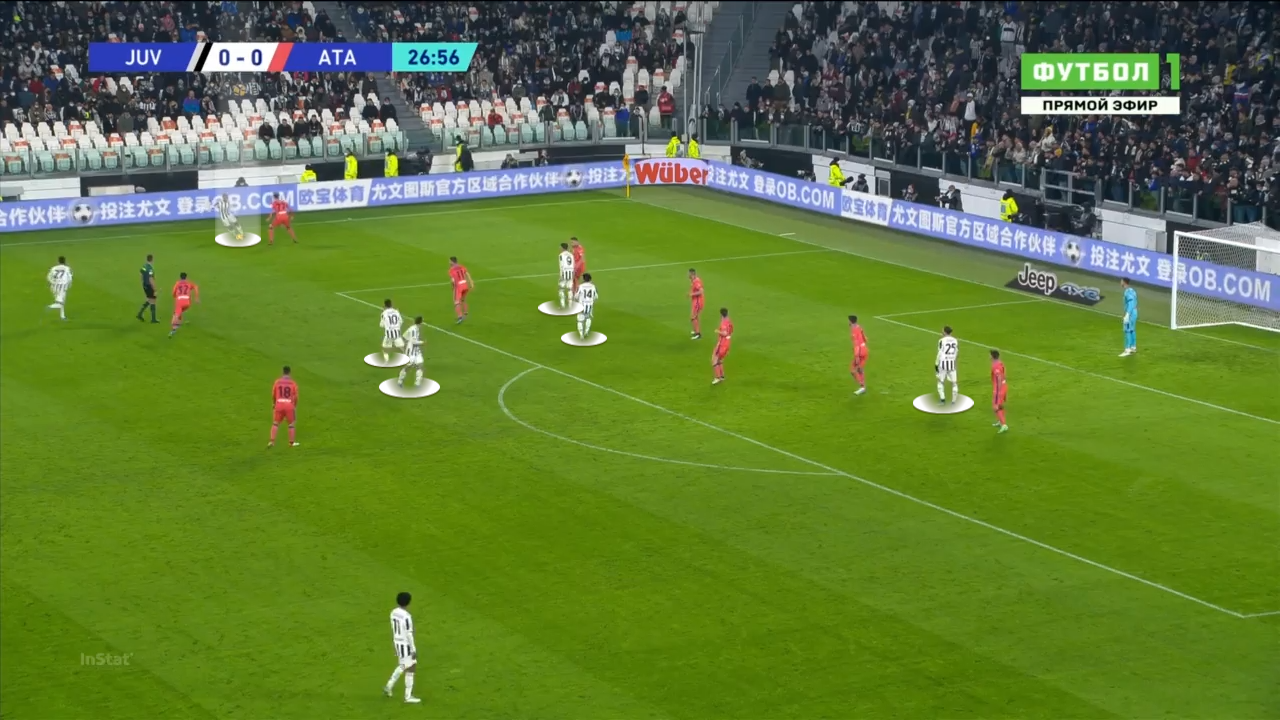 Consequently, the wide players were forced to play the ball back to the centre-backs, who would then switch play to the far side.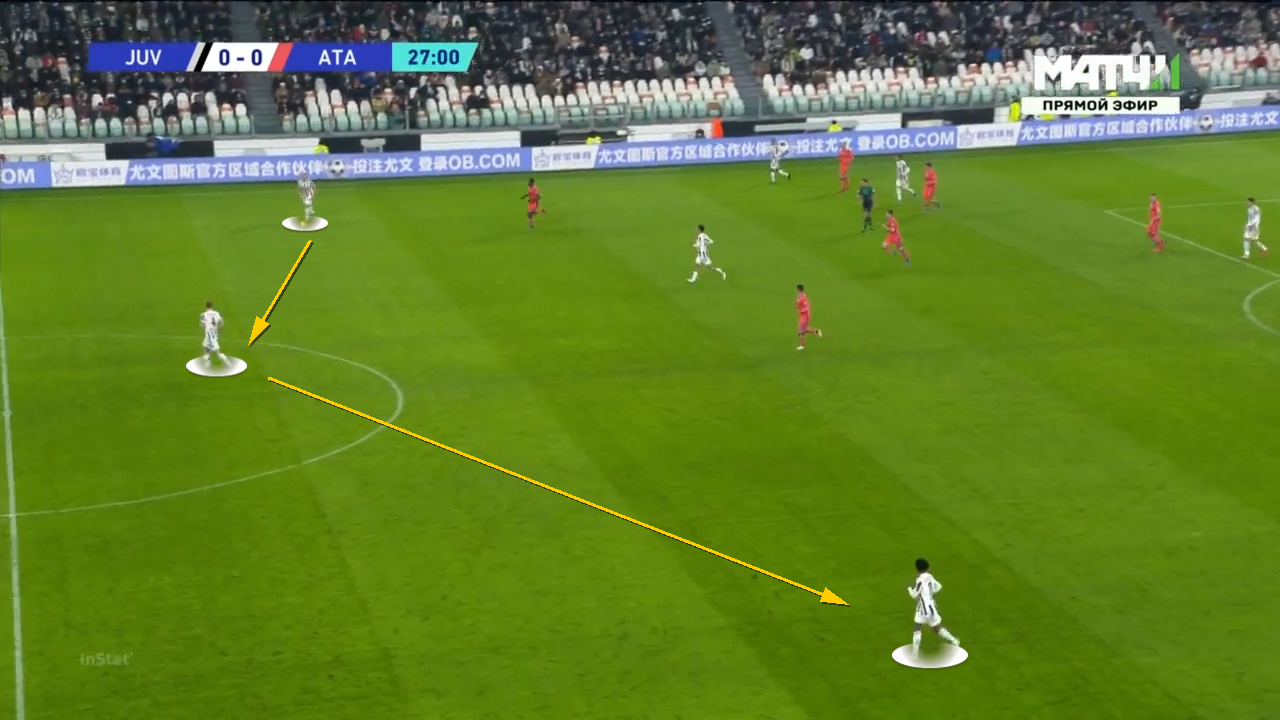 However, Juventus were quite ponderous in how they moved the ball and sometimes lacked positional awareness to exploit the gaps in Atalanta's defence; thus, they played a lot of back passes to get the build-up play going again.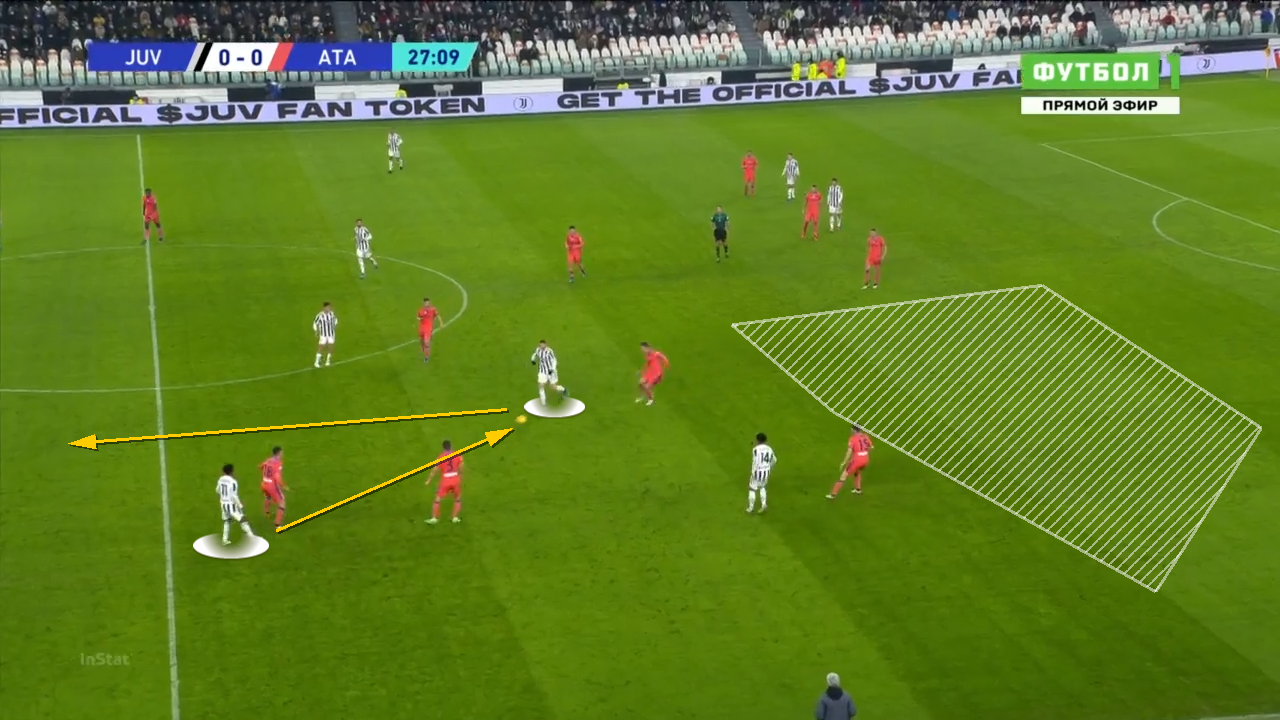 Expected Goals (xG) Statistics