With five Serie A teams battling for the coveted three remaining Champions League spots, Atalanta handed Lazio what could prove to be a costly loss. Maurizio Sarri's side may have enjoyed the bulk of possession, however they failed to capitalize on their chances. Lazio were the most recent team to struggle to break down Gian Piero Gasperini's men who have an advanced tactical outlook. Gasperini is revolutionizing the defensive shape and employs a high pressing system to prevent teams from being able to effectively generate counter attacking chances.
Truthfully this match on paper seemed to be the highlight of the round, but it did not fulfill expectations. Both teams needed a win to make their push for a Champions League spot more secure. The incentive to attack the game left many hoping the two sides would treat spectators to a high scoring end to end match. While chances were present on both sides, the two teams left more to be desired, especially from Lazio.
Gasperini's emphasis on immediately pressing the ball forces teams to play it backward, where they will be met with an even greater energy to close the man receiving the ball down. This generates loads of counter attacking opportunities for Atalanta, as they can utilize the wing backs giving width to the shape. By playing the ball to the wings the opposition begin to become spread thin allowing more space for the central midfield players to receive and distribute to a darting forward.
However, what sets this defensive shape apart from other high pressing systems is how Gasperini's men cover for players when they are caught out of position. Often one of the central midfield players will drop between the center halves to reestablish at least four and at times a fifth cog in the defensive machine. This allows wingbacks to have more freedom to get forward knowing that risking being caught out in order to generate offense is a viable option. Resultingly, Atalanta are able to flood men forward quickly, and effectively, allowing them to generate loads of chances without needing to dominate possession.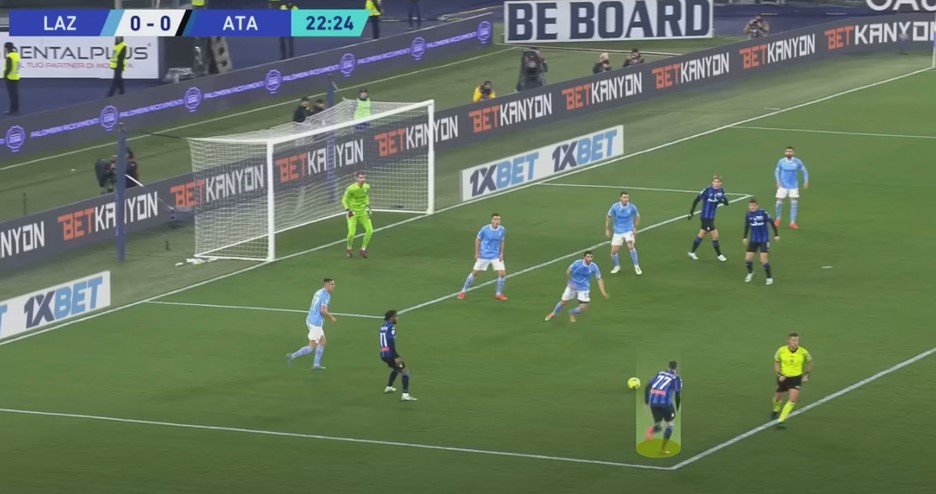 On Atalanta's opener that very thing happened. Davide Zappacosta took up such an advanced position and found himself with an opportunity to strike from the corner of the penalty area. This is normally positive, and it was in this case. However, it also puts Atalanta at risk of being caught out. Slightly earlier, Ciro Immobile had a golden chance to open the scoring because Atalanta can be exposed with direct play down the middle.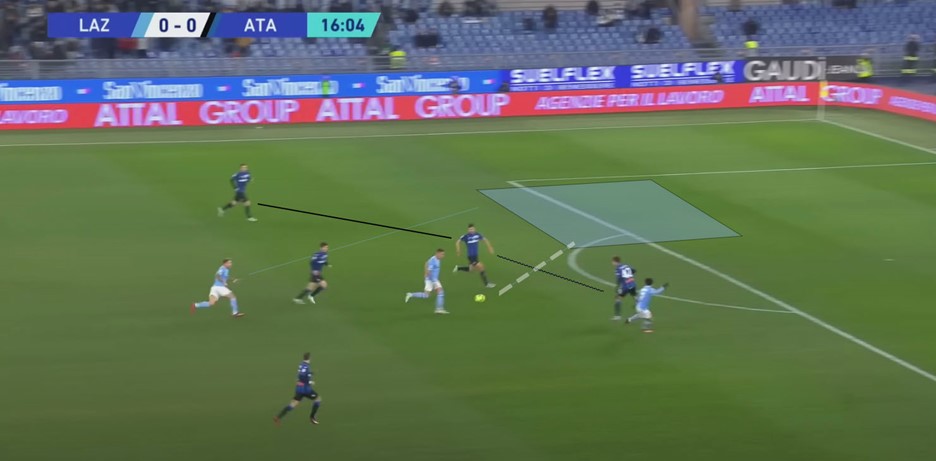 In general, Lazio's best chances came from either intercepting the ball high up the pitch on a poor pass playing out of the back, or when playing directly down the middle. The slower the buildup, the more time Atalanta then had to set their shape. Atalanta thrive in the chaos of a fast-paced match but struggle to cope at times when committing too many men forward. Teams looking to pick up points against Atalanta will have paid special attention to the weakness. The direct over the top ball to a target man allows a quick break of the press, and leaves Atalanta struggling to track back.
The philosophy from Gasperini is one committed to creating and generating scoring chances, while maybe being caught out a few times in the match. With the exception of Napoli, in the last five games Atalanta have the second-best goal differential across all of Seria A. They also have scored the most goals but have conceded more than Napoli. This is a team that shows a commitment to getting men forward and are scoring loads of goals because of it. This win will be the cornerstone of a solid second half of the campaign. They have been in excellent form, and this just cements they are one of the teams who will seriously contest the top spots.