The life of a goalkeeper is made of single events that can change a career, for the best or for the worse. Four years ago in Brazil, Igor Akinfeev had condemned Fabio Capello's Russia to a disappointing early exit with two colossal blunders against South Korea and Algeria. But yesterday, he redeemed himself by saving two penalties from Spain, pushing the host country where they had never arrived – to the Quarter Finals of a World Cup.
Stanislav Cherchesov's Russia thus passed their first real test in the home competition, after making it past a group specifically tailored on their needs – and not without suffering a crushing defeat from Uruguay. Their next opponent, Croatia, are tough, but seeing how Denmark managed to block the Balkans until the penalty shootouts, Cherchesov may have taken some notes in order to prolong the dreams of 144 million of Russians.
Speaking of penalties, it took the cruelest of the tie-breaking solutions to decide the outcome of yesterday's match at Luzhniki Stadium in Moscow, after regular and extra times had ended on a 1-1 score. A clumsy own goal by Sergei Ignashevich was equalized by a penalty converted by Artem Dzyuba, both taking place in the first half. Then, nothing more happened, until the mistakes by Koke and Iago Aspas from the penalty spot marked the last international stop for a generation of Spanish players.
Right, Spain. What to say about Spain? La Roja had a troubled experience at World Cup 2018, which started with the hasty and untimely sacking of coach Julen Lopetegui, and ended with a penalty shootout elimination which wouldn't be that bad – if only the previous 120 minutes had featured a different show on the part of the once invincible Spanish armada. Conversely, yesterday's performance of Spain likely marked the end of the age of their signature move – the tiki taka.
Spain entangled themselves in a weak and slow version of their signature move yesterday, collecting passes over passes, and accumulating a percentage of ball possession that looked like Vladimir Putin's electoral consensus. Still, they missed one small detail: Shooting. La Roja's goal was indeed almost casual, and came early in the game, when a free kick by Marco Asensio bounced on Ignashevich, and then past Igor Akinfeev.
With Russia one goal down, Cherchesov's strategy of letting the Spanish play initially looked inexplicable, to say the least. It would have a been a suicide in the day of the apogee of tiki taka, but yesterday there was no Xavi Hernandez on the pitch, and his twin soul Andres Iniesta was also gloomily on the bench. And so, with La Roja's spider web turning out to be harmless, Russia gained courage, and found their equaliser in an almost equally casual way.
On a Russian corner kick in the 41st minute, Gerard Piqué jumped with one arm stretched high, very high. It looked like a clear invitation for Artem Dzyuba, whose header hit Piqué's arm, and sent the Russian directly on the penalty spot. The Zenit Saint Petersburg's striker converted to wrap his third goal in this World Cup, repaying the trust of Cherchesov, who had included him in the starting lineup since the second group stage match.
Diego Costa called Akinfeev to action in the 45th minute, and then vanished as it often happens to him when he plays for the national selection. The team didn't support him either, as it almost equally often happens, and coach Fernando Hierro eventually decided to pull him out, substituting him with Iago Aspas. Iniesta finally made his entrance in the 66th minute, replacing another legend, David Silva: In a match where the Spaniards desperately lacked concreteness, his shot in the 84th minute showed that he was at least willing to try.
Cherchesov's key move was sending in Denis Cheryshev – the most talented man in the Russian selection together with Aleksandr Golovin (another positive performance for the midfielder followed by Juventus…) – whom he had surprisingly left out of the lineup. But for some new emotions, the 78000 spectators at Luzhniki Stadium had to wait for extra time, when an alleged hold on Sergio Ramos in the box made them catch their breath, as referee Bjorn Kuipers checked VAR. The technology assistants ruled it a no foul, and sent the teams to the final lottery.
The Russians scored from all their attempts. Spanish goalie David De Gea was not specifically guilty on any of them, but surely missed a chance to redeem himself from his not exactly flawless previous performances. His fellow colleague Igor Akinfeev, on the other hand, first saved a bad central shot by Koke, and then parried back with his left foot Iago Aspas' final penalty, rehabilitating himself in the eye of his Country four years after his World Cup 2014 disasters.
Curtains went down on the fantastic, dominating, decade of Spanish football. It was the less talented team to advance, but the one that did the best of what they got. A post-match comment by Arrigo Sacchi, once a legendary coach and now a TV commentator, summed it up perfectly: "Russia did all they could do today, whereas Spain did not." And that's what made the difference.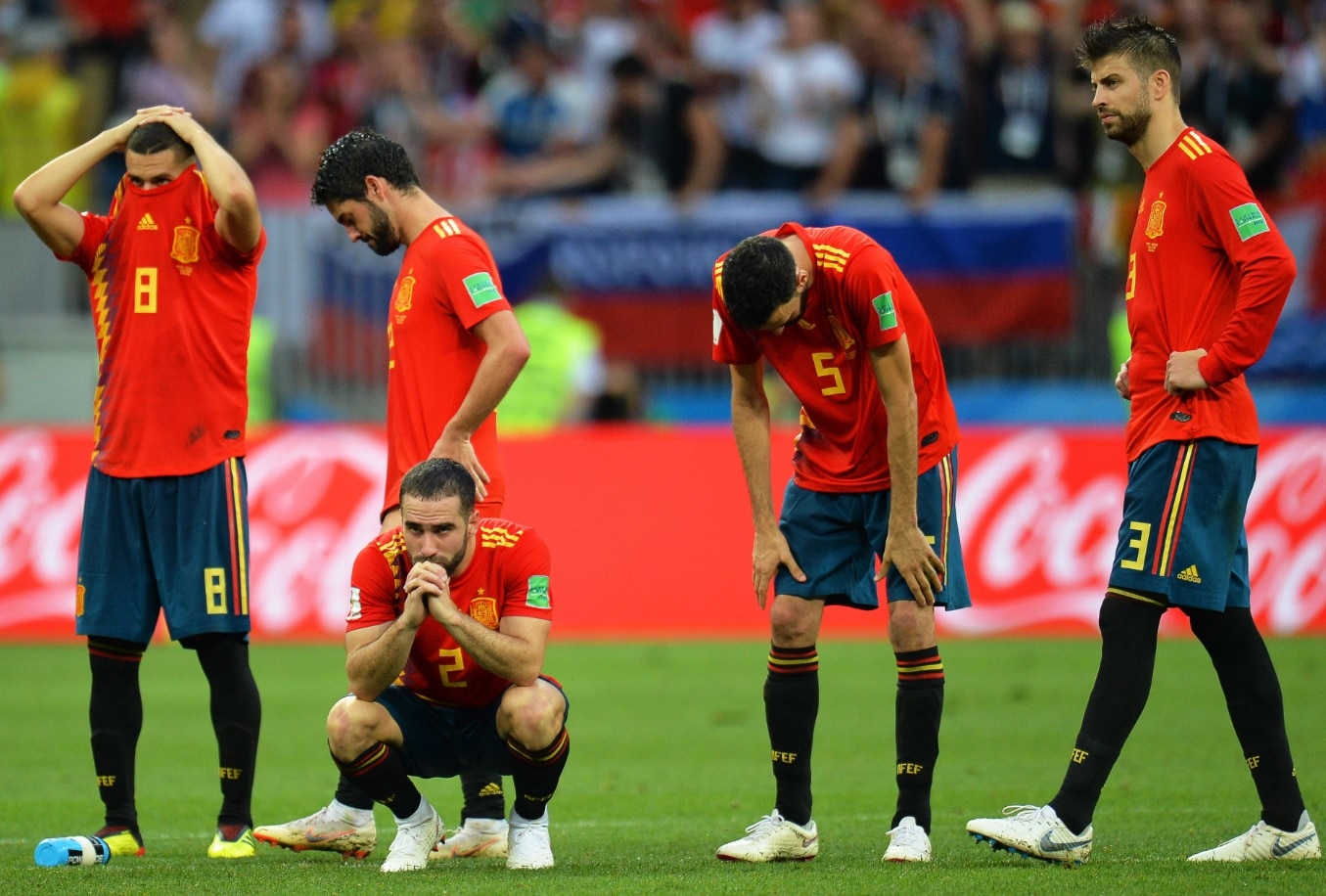 MATCH REPORT
July 1, 2018 – World Cup Round of 16
SPAIN-RUSSIA 1-1 after extra time; 3-4 after penalties

SCORERS: 12′ Ignashevich (R, o.g.), 41′ Dzyuba (R, pen.)
PENALTY SEQUENCE: Iniesta (s) goal, Smolov (R) goal, Piqué (S) goal, Ignashevich (R) goal, Koke (S) saved, Golovin (R) goal, Sergio Ramos (S) goal, Cheryshev (R) goal, Aspas (S)  saved
SPAIN

(4-2-3-1): De Gea; Nacho (70' Carvajal), Piqué, Ramos, Alba; Koke, Busquets; Asensio (105' Rodrigo), David Silva (67' Iniesta), Isco; Diego Costa (80' Aspas) (Arrizabalaga, Reina, Saul, Thiago, Vasquez, Odriozola, Azpilicueta, Monreal) Coach: Hierro

RUSSIA

(5-3-1-1): Akinfeev; Mario Fernandes, Kutepov, Ignashevich, Kudriashov, Zhirkov (46' Granat); Samedov (61' Cheryshev), Kuzyaev (dal 97' Erokhin), Zobnin; Golovin; Dzyuba (65' Smolov) (Lunev, Gabulov, Semenov, Gazinsky, Dzagoev, Al. Miranchuk, An. Miranchuk) Coach: Cherchesov
REFEREE: Kuipers (Netherlands)
NOTES: Attendance: 78011; Yellow Cards: Piqué (S), Kutepov, Zobnin (R); Extra Time: 1st Half 2', 2nd Half 4', 1st X-Half 1′; 2nd X-Half 1'
***
Click below to relive some of Spain and Russia's previous games at World Cup 2018:
Portugal-Spain 3-3
Iran-Spain 0-1
Russia-Saudi Arabia 5-0
Russia-Egypt 3-1
Uruguay-Russia 3-0