Over the years, Italian football has often been associated with defending and winning games through a pragmatic style of play. Although few can argue that a highly organised defensive structure focused on nullifying opponents' attacks is not part of the country's football DNA, Italian clubs and national team would not have been able to achieve great success without quality strikers.
At first glance, it would be hard to believe that a footballing nation with a rather defensive playing mindset could boast a list of some of the world's best centre-forwards; however, initial perceptions can sometimes be wrong. Giuseppe Meazza, Paolo Rossi, Roberto Baggio, Alessandro Del Piero and Filippo Inzaghi are some of the finest strikers born in the land of the Azzurri, with a new generation of talent breaking through the ranks every year.
One of the talents proving himself in this position is Spezia's youngster Roberto Piccoli. The 20-year-old is currently playing his first season with the Aquilotti and although the Bergamo-born striker is yet to fully cement his place in the starting eleven, Piccoli has the potential to establish himself as one of Serie A's most potent strikers in the years to come.
This scout report in collaboration with The Scouting App will delve deeper into Piccoli's player profile, outlining his strengths and weaknesses, as well as analyze his performances of the 2020-21 Serie A season so far.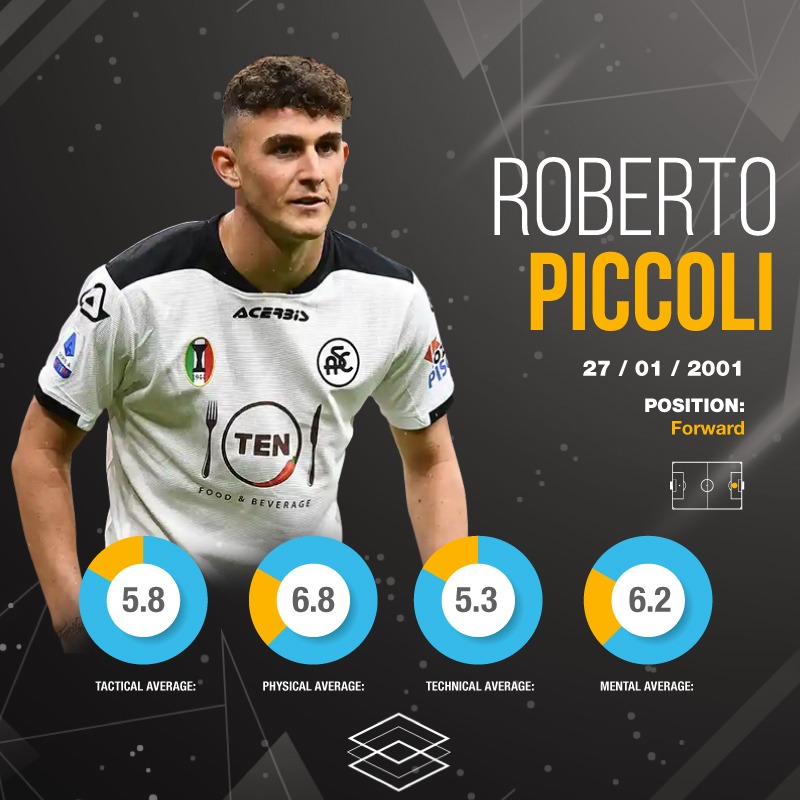 Player Overview
The Bergamo-born striker started playing football at the age of 10 in Atalanta's youth academy. As part of the youth academy, Piccoli spent eight years developing his footballing skills until earning his first call-up to the Campionato Primavera 1 (youth league) in 2018. The youngster immediately made a name for himself in the youth ranks, scoring 14 goals in 21 matches for Atalanta, which led to him joining the first team in the same season.
After making a step up from youth to senior level, Piccoli struggled to make an impact and his time in the Atalanta first team was cut short after just two Serie A appearances. It was evident that such a quick transition between ranks came too soon for the Italian striker; therefore, Piccoli returned to the youth team the following season.
Despite an unsuccessful first attempt to establish himself in the senior team, the young striker managed to retain his confidence and scored an impressive 17 goals that season, 8 of which came in the UEFA Youth League. Consequently, Piccoli was called to Atalanta's first team for a second time later in the season, but again he was not given much time to prove himself.
After scoring 31 goals in two years at youth level, it was clear that the Atalanta academy product was too good for the youth competition but not quite ready for a first team breakthrough. For this reason, Piccoli was sent on loan to Spezia for the 2020-21 season, who had just been promoted from Serie B.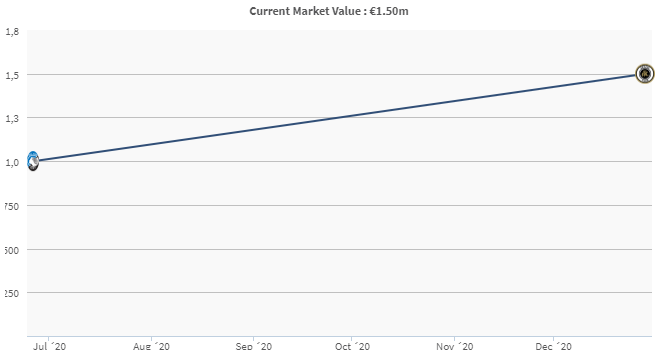 Player Profile
Piccoli is a 20-year-old center-forward who plays for Serie A club Spezia. The 190cm tall Italian youngster is currently playing his first full Serie A season, having made three appearances for Atalanta in the 2018-19 and 2019-20 seasons. At Spezia, Piccoli is gradually establishing himself as an important attacking force and has 19 appearances, 5 goals and 2 assists to his name in all competitions this season.
Considering his size, the Spezia striker falls into the category of the traditional "big man" who can lead the front line on his own, but if we dive deeper into his playing profile, we can see that Piccoli has much more to his game than the old-school "number 9." One of the reasons for this is his average position on the pitch, as illustrated in the heat map below. We can see that Piccoli likes to drift to the inside and outside right channels, but also occupies a more central position, as is necessary for a center-forward.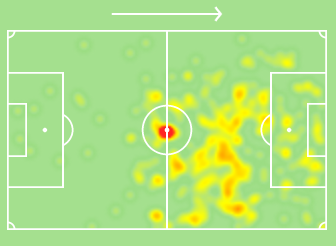 As mentioned above, Piccoli's profile at first glance reminds one of a traditional type of center-forward who often lacks all-round aspects to his game. However, this is not the case when we dig deeper and take a closer look at the 20-year-old Spezia striker. The Atalanta academy graduate is much more mobile and versatile than one might expect for his player size. As a result, his all-round game is pretty impressive even at such a young age.
Before we delve deeper into other areas of Piccoli's game, it is crucial to address his and any striker's most important aspect of the game – scoring goals. The Italian's 31 goals for Atalanta's youth team are a good indication that he has a natural striker's instinct and knows where the back of the net is. What is particularly impressive about Piccoli's striker instinct is his ability to get a shot off without having to take too many touches. It is worth pointing out that such ability is complemented by his good first touch, which allows him to assess the situation quickly.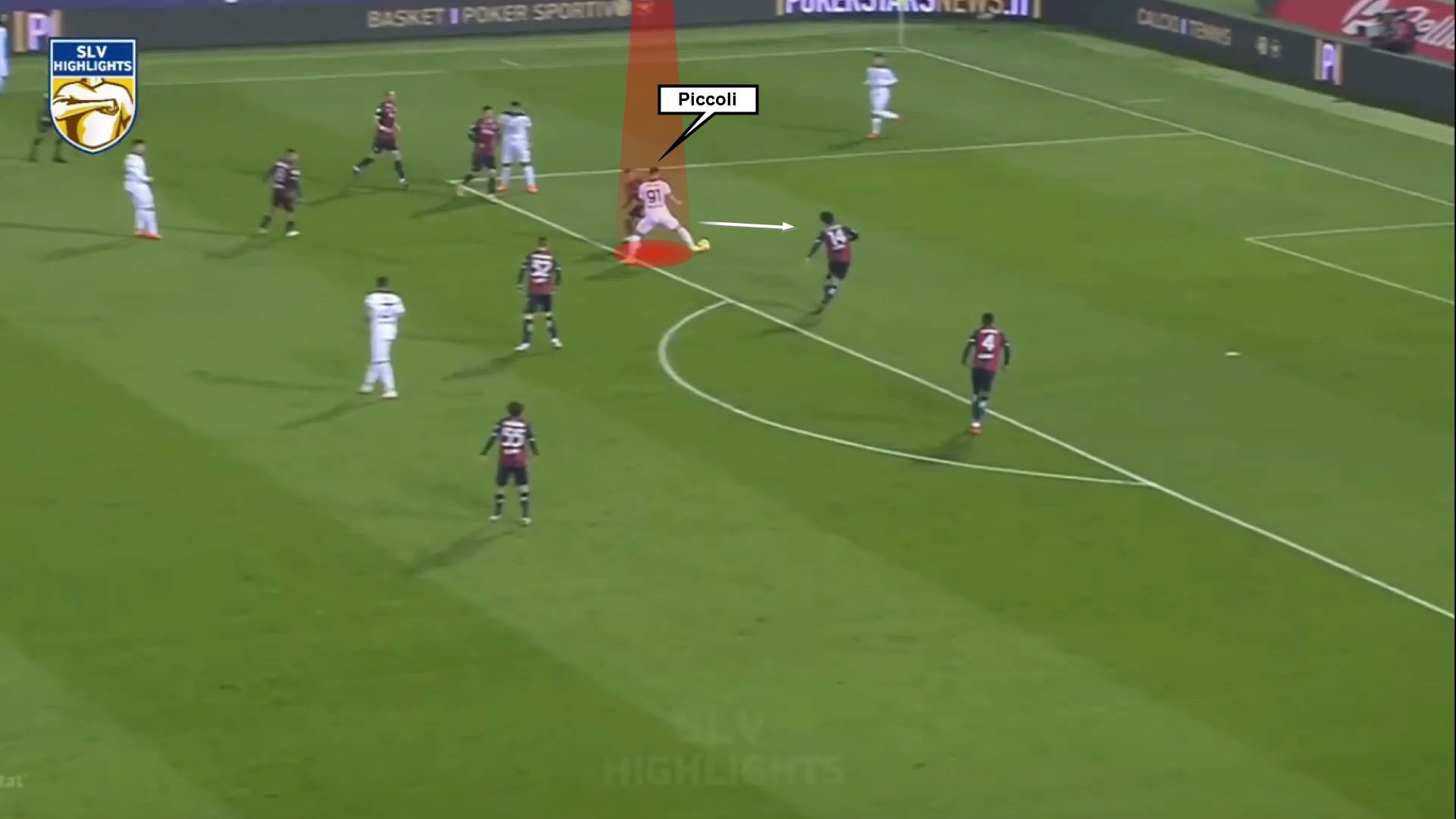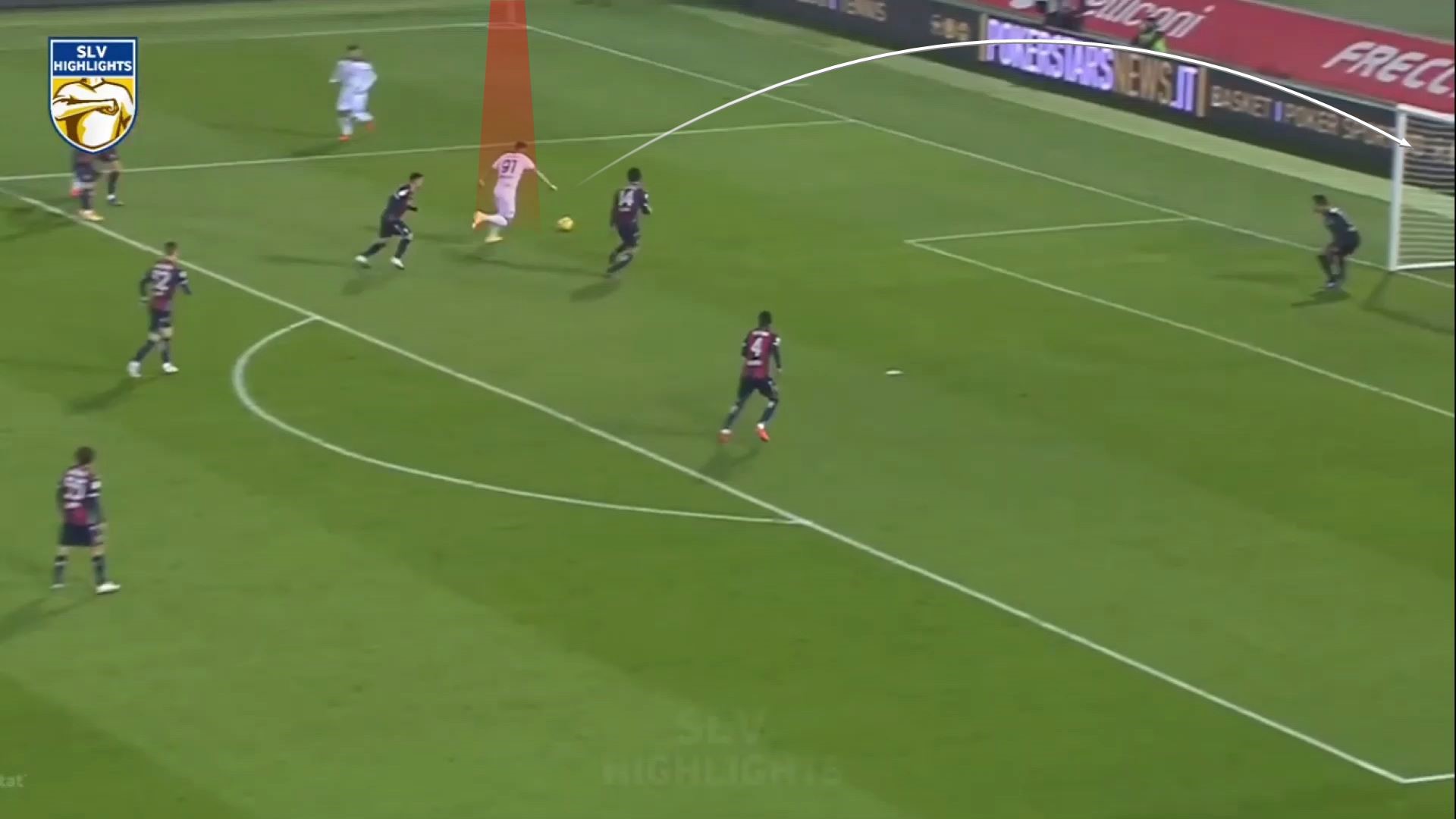 Another key skill for any striker to have is the ability to anticipate a pass from a teammate and subsequently make a timed run into the area where the ball is likely to be delivered. Piccoli excels in this aspect of the game, as we can see in the picture below, by reading the situation well and making a perfectly timed run between the two defenders to get to the end of the pass. Such a skill can be described as the poacher's instinct, which is part of the repertoire of every top-class striker.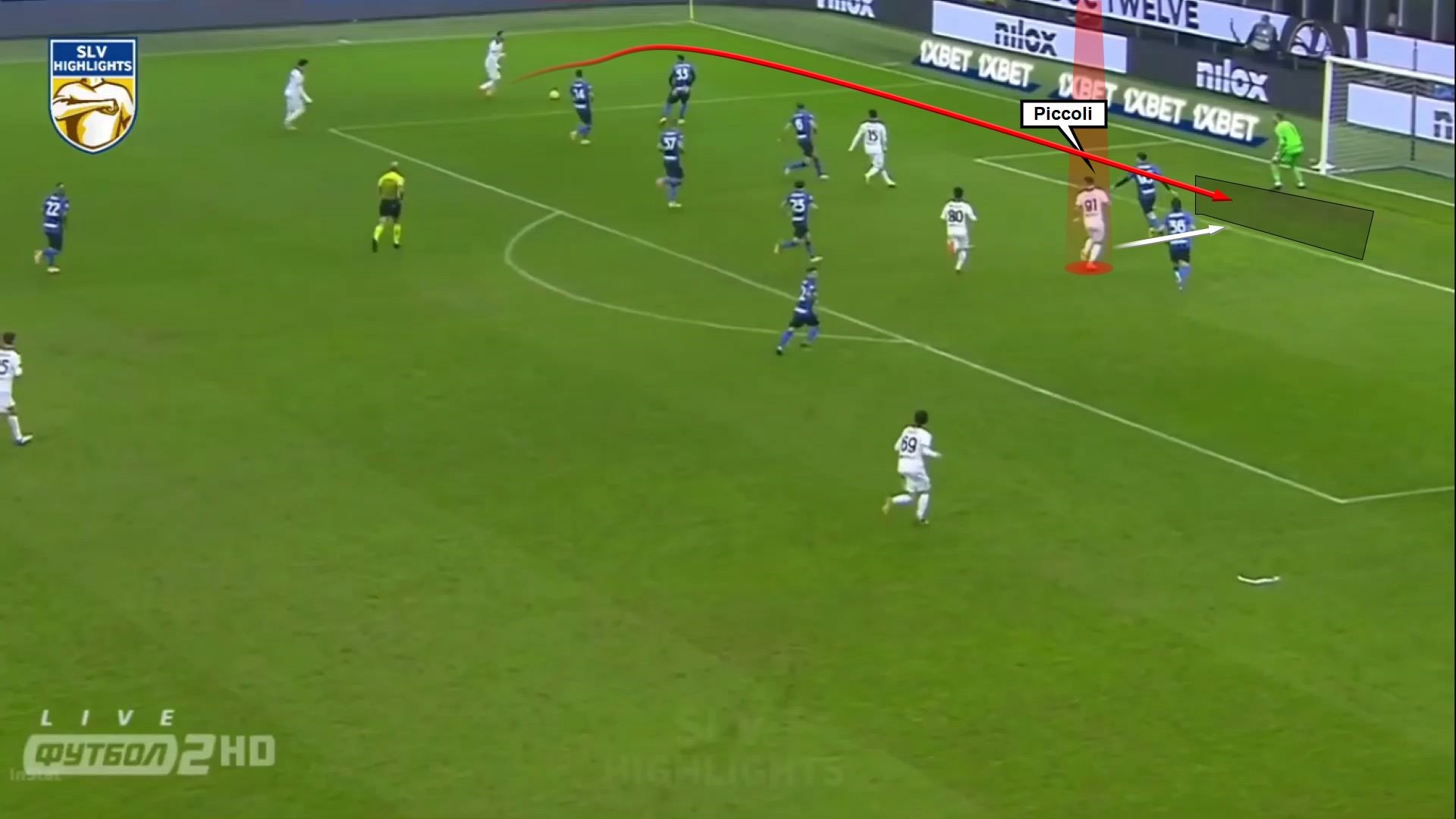 A common characteristic of center-forwards of traditional size is to be able to utilize their physical strength to hold the ball up. Piccoli executes this side of his game really well and even more impressive is that the Italian has the ability to turn and run away from defenders at speed, which is another big advantage in his game.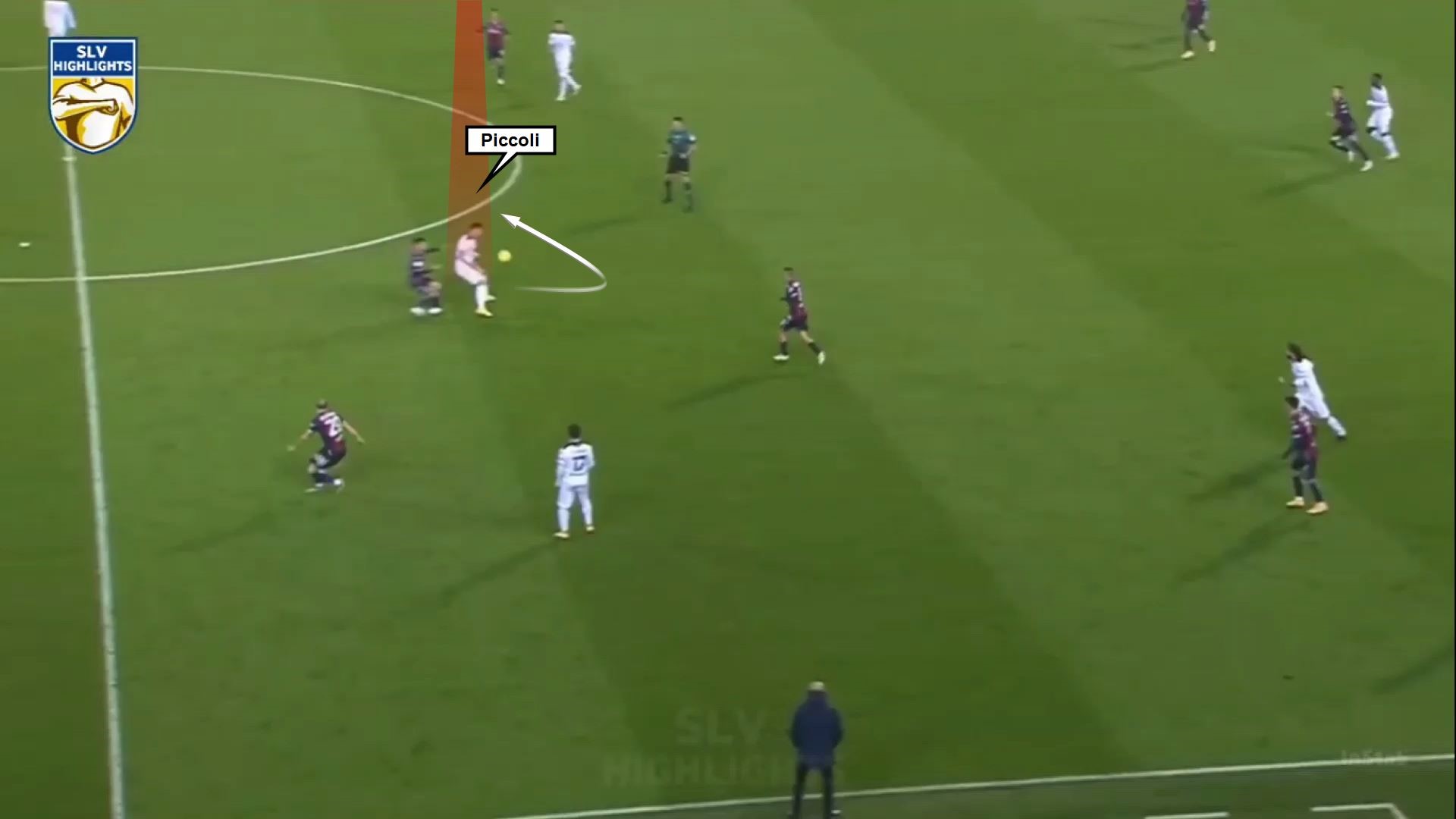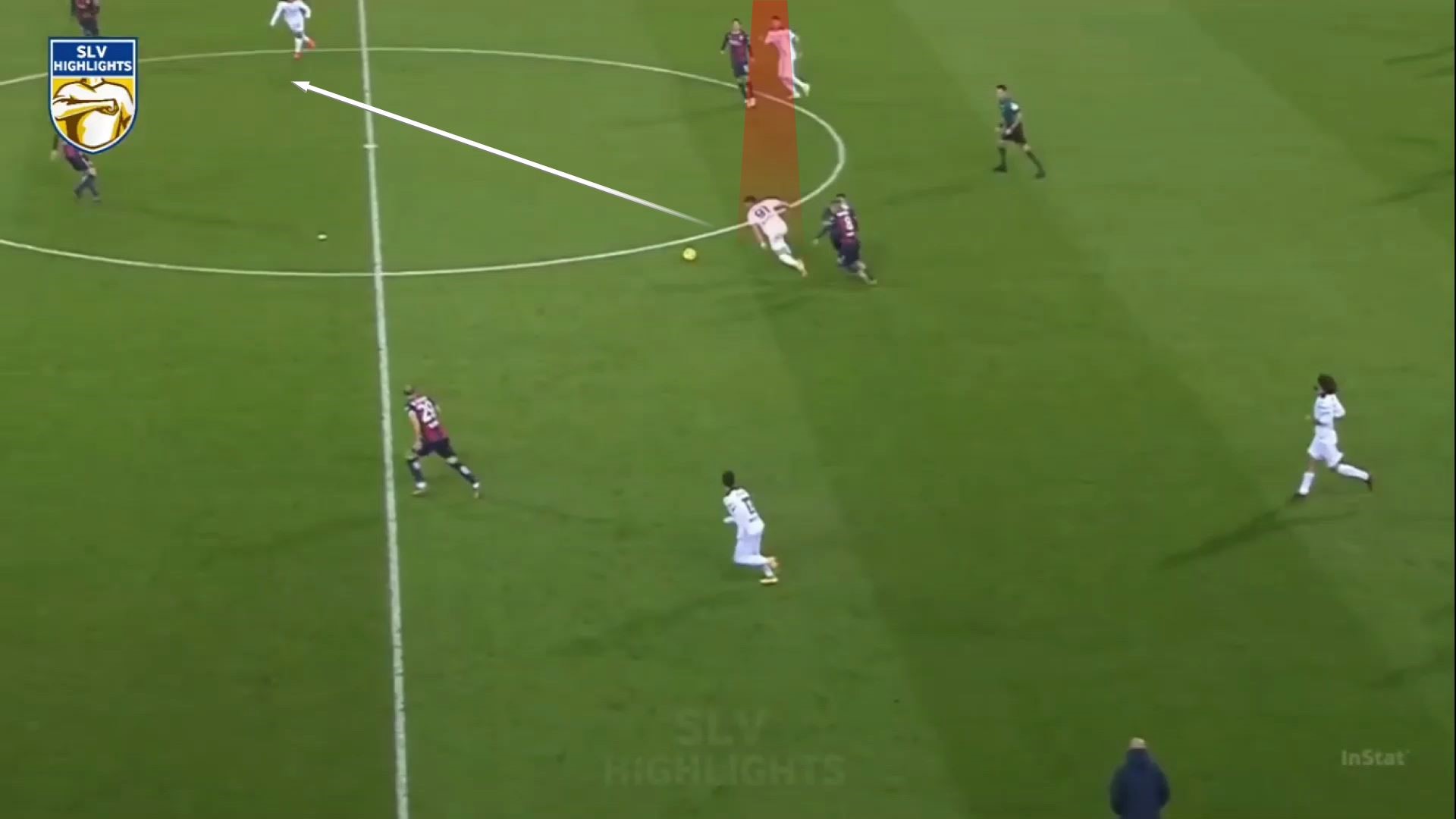 Being fast and mobile is essential in the modern game, as it allows the striker to move with more freedom rather than always remain fixed to a center zone. For a big and bulky center-forward, Piccoli shows impressive acceleration from a stationary position, often leaving the opposition defenders in the dust.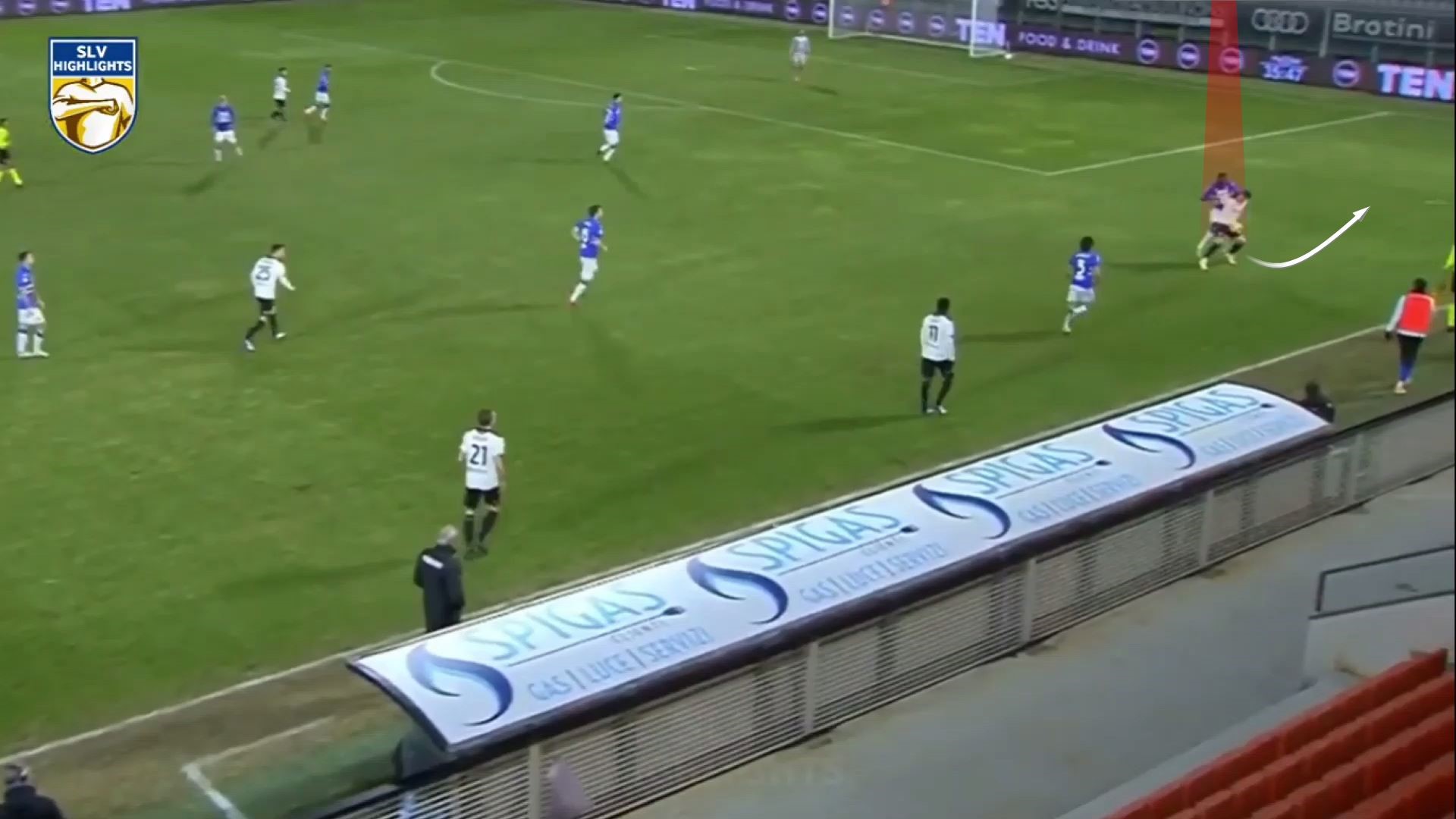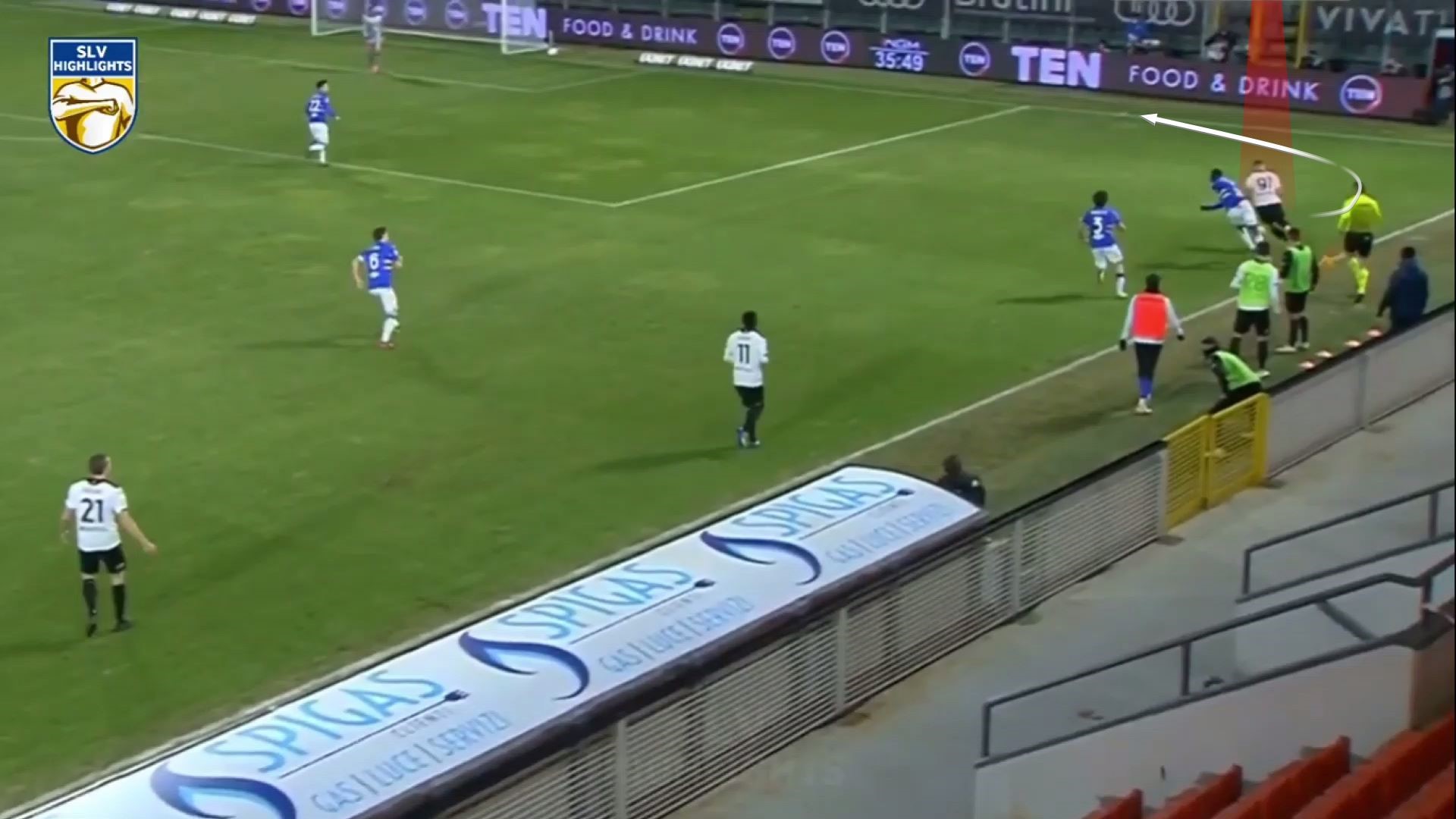 Piccoli in the 2020-21 Serie A Season
The fact that Piccoli has only made 7 starts in Serie A this season – the other 11 matches were substitute appearances – makes it a little harder to do a quantitative analysis objectively. Nevertheless, below we take a look at some of the key performance indicators where we compare Piccoli to the rest of the Serie A strikers.
The Spezia striker has netted 4 times in 18 Serie A appearances, averaging a goal every 157 minutes, and is the Aquilotti's third-highest scorer only behind Daniele Verde (5 goals) and M'Bala Nzola (9 goals). Based on the number of minutes he has played so far this season, Piccoli is outperforming the league average in both non-penalty goals and non-penalty expected goals (npxG) metrics. This already shows the young Italian's ability to impact games, despite only playing an average of 35 minutes per game. Furthermore, the Spezia striker has an impressive shooting efficiency that exceeds the Serie A average, as presented in the chart below.
The only criticism of Piccoli's performances so far could be related to his creative side of the game. The Italian has been performing below par on most of these metrics, including shot and goal-creating actions and expected assists (xA).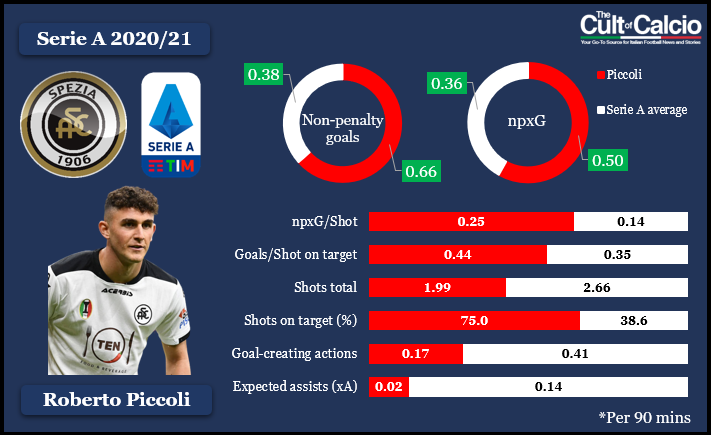 Conclusion
Piccoli is an exciting Italian prospect whose skills and physical presence set him apart from the majority of Serie A strikers even at such a young age. A loan move to Spezia or another lower-tier Serie A team would probably be the best decision to further accelerate his development.