Going into Round 26 of the Seria A campaign Roma looked to continue their push for Champions League football. History against Sassuolo has been kind for the Giallorossi who have boasted an unbeaten record against the Neroverdi. However, Roma would be without Jose Mourinho who is facing match one of a two game touchline ban. Additionally, many in the capital were optimistic because Roma had not conceded at home so far in 2023.
Roma lined up in their standard 3-5-2 that Mourinho has been favoring throughout the entire season. Sassuolo lined up in a 4-3-3 shape, but the formation evolved throughout the game to meet the challenges Roma posed. Defensively at times the 4-3-3 would shift to a 5-3-2 to be sounder against a breaking Giallorossi side.
This contrast in shapes was always going to set the match up to be an open end to end affair. Both teams were seeking to generate chances by using the width their shapes lend themselves to. However, because Roma were using the spatial advantage in the midfield, while Sassuolo were using it in the final third, neither team effectively defended against the other. Roma too often were caught with their wingbacks high up the pitch leaving the three in the back vulnerable to equal, or odd man rush counter attacking scenarios. Before the match would end, the entire Sassuolo starting front three would see their name end up on the scoresheet.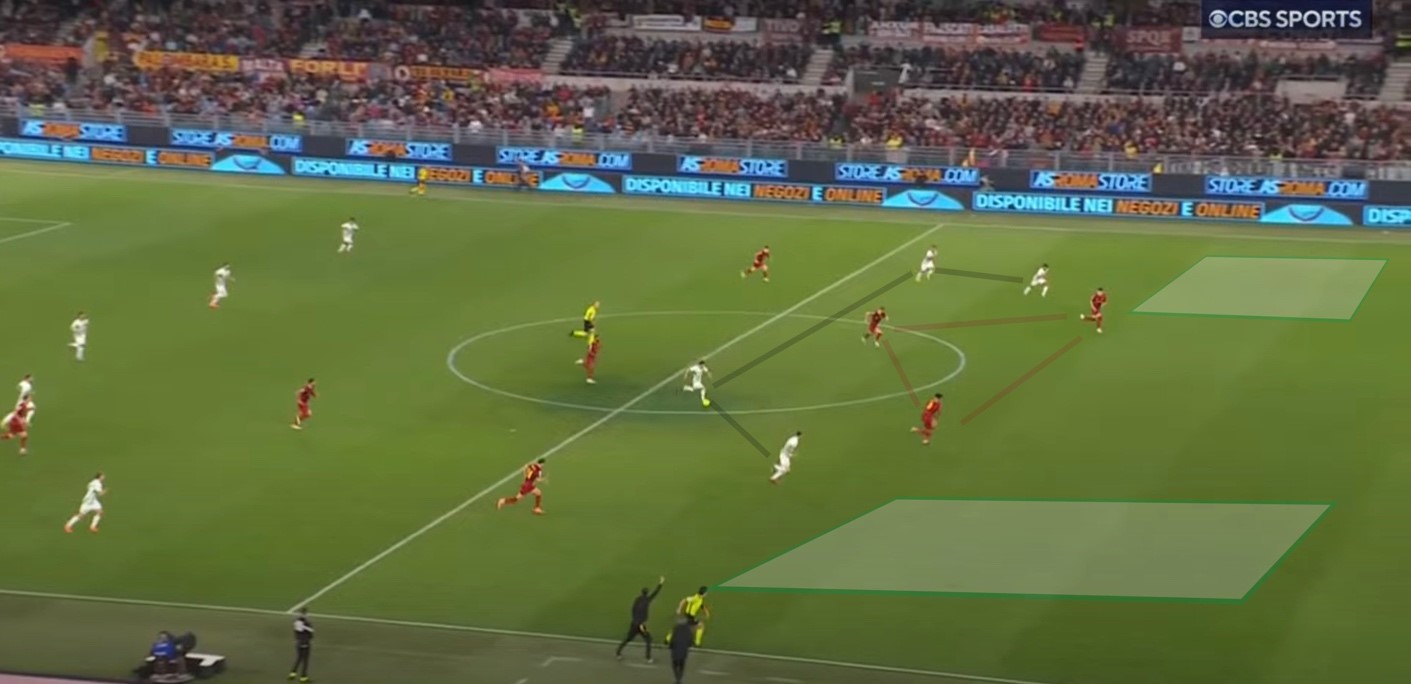 When the game started, both teams came out flying. Sassuolo were the sharper of the two sides striking twice. The visitors struck twice in opening twenty minutes of play through two Armand Laurienté efforts. It would be fair to say that neither effort was the Frenchman's cleanest strike, but what was remarkable is the positions he found himself unmarked against such a defensively sound team. Roma were able to hit back quickly through Nicola Zalewski's first goal for Roma. In similar fashion to Laurienté, Zalewski's effort was not his finest strike, but that will not matter to the youngster who picked a great time to open his account at the Stadio Olimpico.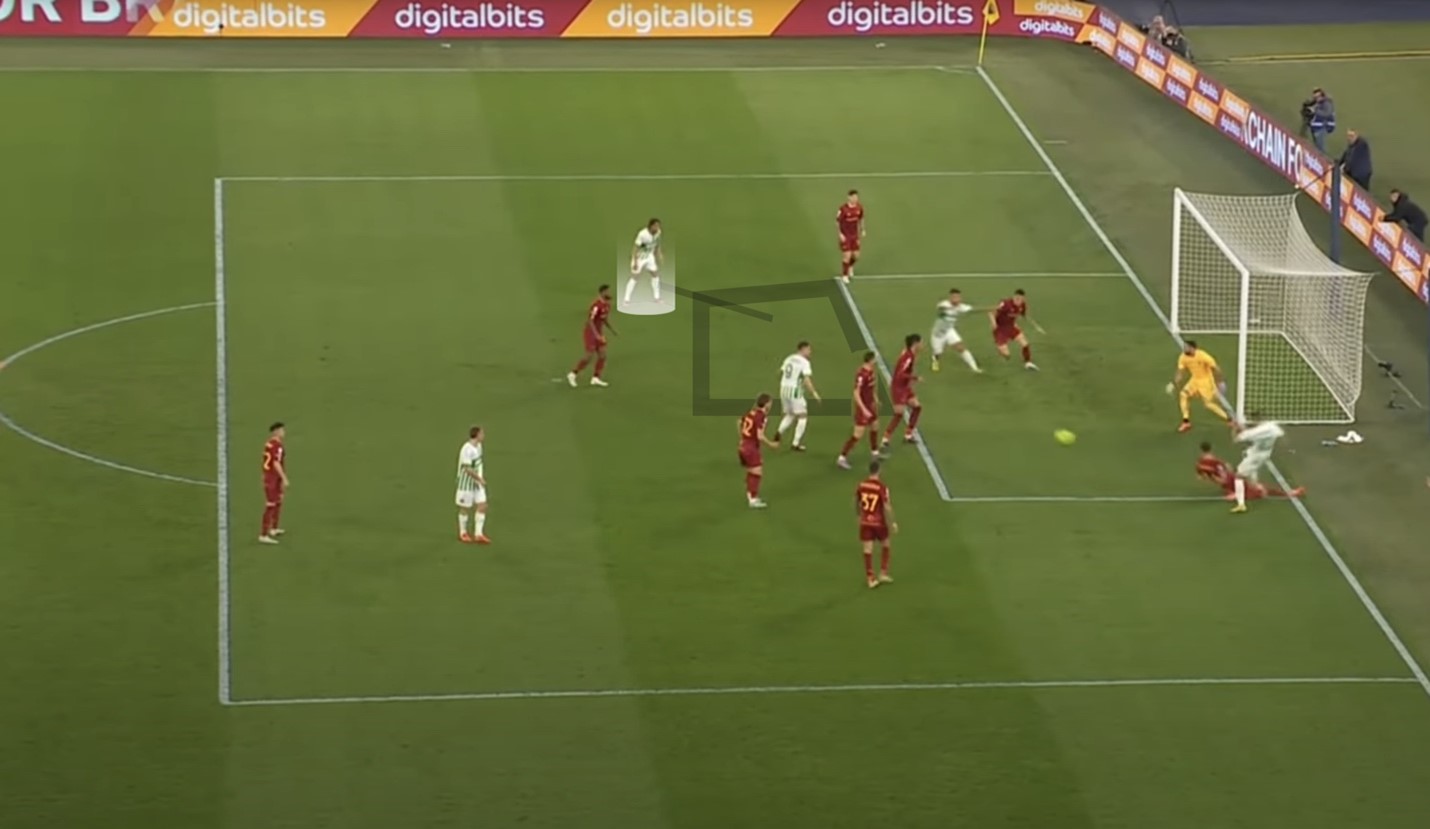 The first goal for Roma highlighted the effectiveness of their formation perfectly. The ball was served in from a wide position from Leonardo Spinazzola and was met by fellow wing back Zalewski. When Roma struggle to generate offense through the middle channels they often shift the ball wide to allow ample crosses to flood the box, making use of their aerial advantage, and tall targets to aim for. Resulting from having two wing backs committed high up the pitch, Roma can recycle any crosses that go deep back into dangerous areas. Without Lorenzo Pellegrini, or Paulo Dybala in the starting line-up it was clear Roma were going to commit to expanding the width.
However, this opened them up to one major issue. Their game became one dimensional and they began to rue missing chances early as Sassuolo got comfortable in a low defensive block only looking to counter, as they were already leading. Resultingly, Sassuolo were able to hold Roma to just the single goal in the first half. The introduction of Dybala at half time was a change that looked to counteract this.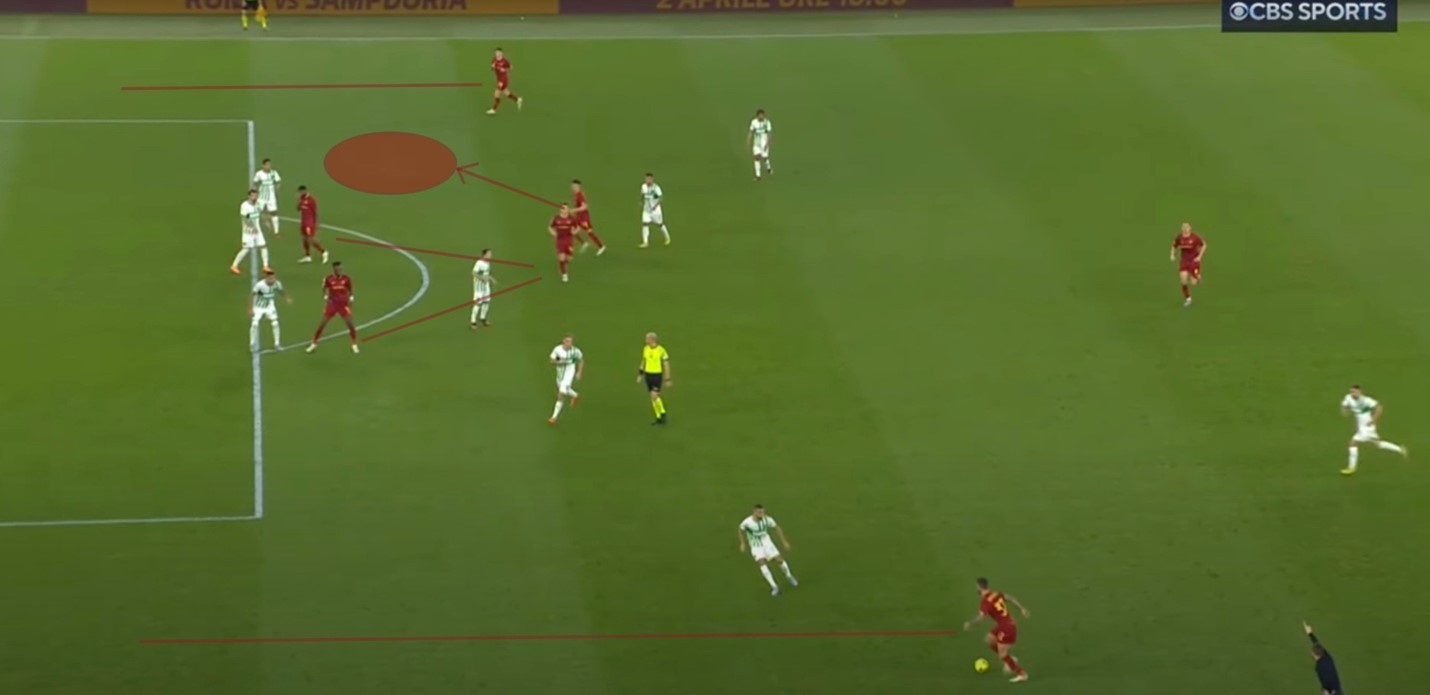 Roma lost the match in the first half, take nothing away from Sassuolo, but they also beat themselves. The poor defending from the back three, which lead to two straight forward goals from Laurienté, was not the worst thing that happened in the first period. In a fit of frustration Marash Kumbulla kicked out against Domenico Berardi which would lead to a straight red card, and a penalty upon VAR review. The following spot kick was then coolly slotted home by Berardi.
It is absurd that in an era where every play is recorded and able to be checked from four or more camera angles players still lash out. It is always going to be seen in the modern game, and the only thing Kumbulla did for his side is expand their deficit and create an uphill second half battle if Mourinho's men would want to earn any points.
Credit to Roma is due however because they came out in the second half and made the game into a contest. The introduction of Dybala gave them that central linkup play which resulted in an extremely well taken goal for the Argentine. The capital side's approach saw the backline more willing to press high and win the ball. This increased aggression, both scored them a goal, and was the reason for the concession of their fourth. In fact, both goals were extremely similar as Andrea Pinamonti and Georginio Wijnaldum lifted the ball over rushing keepers going to ground to close the shooting angle down.
In a season where every point is going to matter when determining European positions, Roma may look back and realize this was a big loss. They completely crumbled at home looking like a shell of themselves defensively. A team who has been as resolute as any throughout the new year, cannot let four goals in at home. The Mourinho size hole left by the suspension was deeply felt. Roma felt as if they were lacking in leadership.
The difference between good sides and top teams is the ability to get results under all circumstances. It is ironic that a Mourinho team, a side that prepares to play with ten, or without a manager in training, was unable to put it together on match day. The largest takeaway however is that Sassuolo have a rising star in their ranks with Armand Laurienté.