During the 1990s, Serie A was arguably the best league in the world, a treat to watch. Unparalleled defensive talents faced some of the greatest strikers to ever play the beautiful game. And Batigol indeed fell into the second category.
Gabriel Omar Batistuta graced Italian football from 1991 to 2003 – going on to spend nine years in Florence in La Viola colors before moving to the capital city of Rome. He donned the Giallorossi colors for three years, after which he was loaned out to Milan with the Nerazzurri in 2002-03 – his farewell Serie A season.
His story of capturing glory in European football began with Argentina's bid to win the 1991 Copa America title. Argentina's 1980s glory days was largely followed with a downstream battle of the country's greatest ever player – Maradona, of course – being plagued by drug scandals and failed doping tests.
The hard-headed Batistuta, then aged only 22, was chosen by head coach Alfio Basile to lead the front line as a pure number nine. With support from the legendary Claudio Caniggia and a young Diego Simeone, He went on to score six goals in six appearances, leading La Albiceleste to their 13th continental title and their first in 32 years.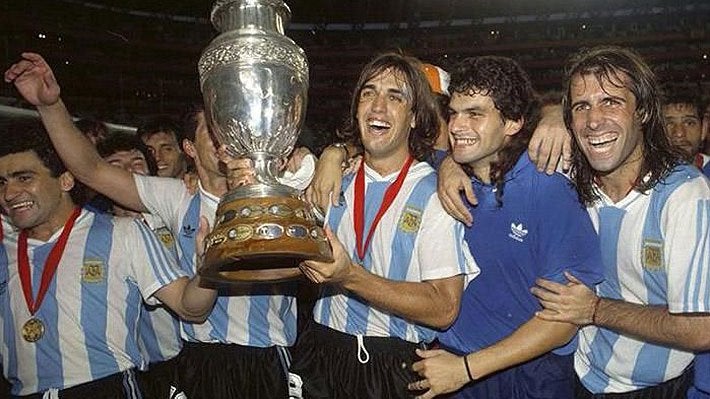 Colombia, Brazil, Chile, Paraguay, Venezuela – it didn't matter. His fierceness prompted him to dismantle some of South America's best defenders on a whim. Little did the No.9 know that his feats were being noticed an ocean away in the Italian peninsula.
Just two years before taking ownership of Fiorentina from his father Mario, Vittorio Cecchi Gori noticed Batigol's early exploits in South America's most coveted cross-border title. The then vice-president shared his eagerness with first team manager Sebastiao Lazaroni to bring in the Argentinian marksman.
And so the story of Batistuta's rise to greatness with his 'machine-gun' celebrations began.
What the Fiorentina faithful experienced from his first 11 games was rather underwhelming, as he scored just once in as many outings. But what they experienced the following decade was a beastly striker whose presence could be likened to an armored train – ruthless, untamed, and cut-throat.
Capable of terrorizing defenses with his Herculean presence, formidable shots, and killer instinct, he gradually began displaying his striking prowess – going on to score 14 goals in his first season in Italy and gradually increasing his tally with each passing season.
Perhaps, the real showmanship of his character came at the end of his second season in Florence. As Fabio Capello's Milan won the 1992-93 Scudetto and continued Arrigo Sacchi's legacy of domestic and continental dominance, Fiorentina's astonishingly sub-standard season saw them relegated on the last day of the season to Serie B.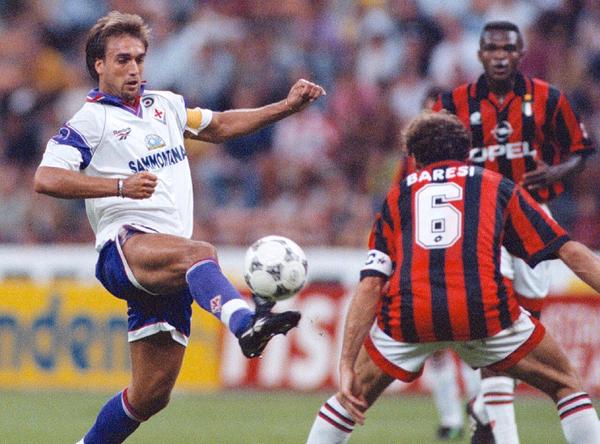 Dunga, Brian Laudrup, Pietro Maiellaro and Stefano Salvatori were few high-profile names to move away from Florence. Not Batistuta. He pledged his alliance to La Viola colors and knocked in goals as usual, helping the club regain promotion to the top tier – despite interest from European heavyweights such as Real Madrid and Manchester United.
The next few seasons saw him establish a mouthwatering partnership with Portuguese playmaker Rui Costa. As the duo ripped defenses apart and captured cup titles, the dream of winning the Scudetto remained elusive.
Batistuta's one-offs against Ronaldo during the Brazilian's Inter days were some of the world's most anticipated matches – something that could be likened to the glamour of the Messi vs. Cristiano Ronaldo Clasico duels.
Consecutively falling short to the brilliant Milan, Juventus and Lazio teams of the '90s and despite possessing his magisterial presence in the final third, Fiorentina largely underperformed in the last decade of the 20th century, winning only three major titles – the Serie B in 1993-94 and Coppa Italia and Supercoppa Italiana in 1995-96.
He came closest to winning the Scudetto title in the 1998-99 season, finishing third behind Milan and Lazio. The same season he dismantled the glorious title-winning Milan defense at Stadio San Siro, turning legendary ball winners Paolo Maldini and Alessandro Costacurta into mere spectators as he thumped in a ruthless hattrick on the third match day.
One can hardly forget Batigol's thundering 30-yard strike against Manchester United at Old Trafford in the 1999-00 Champions League group stages. It would be one of his last great goals for La Viola before transferring south to Roma in search of the elusive league title.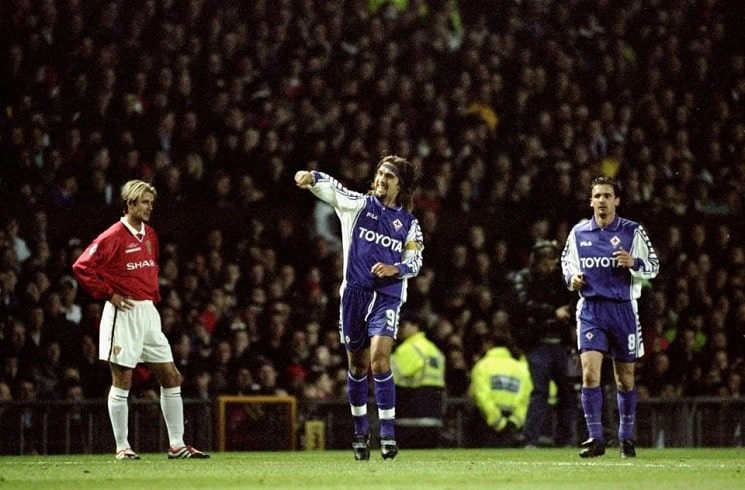 As blood-rivals Lazio won the Scudetto that season, Roma gleaned in for striking reinforcements and there were few or arguably no forwards in the market better matched to meet the Giallorossi's expectations. It was a match made in heaven, although just short of Batigol's endearment of the Fiorentini.
His journey to the summit of Italian football had been a decade in the making as the 30-year-old lifted the first and only Scudetto of his goal-laden Serie A career with Roma in 2000-01. He registered 20 goals in his first season with the club and won the club's first title since the 1982-83.
It was Rui Costa then, it was Francesco Totti now. Colors changed from purple to maroon-red, but the man remained the same; banging in decisive goals – including an otherworldly match-winning volley from almost 25 yards and eight minutes from time against his beloved Fiorentina.
As the Stadio Olimpico faithful erupted in joy and chanted "Batigol! Batigol!" the few hundred Viola fans joined in to cheer one of the greatest goals by their greatest ever scorer. He clearly wished he hadn't scored against the team he so adored, but such is the trade.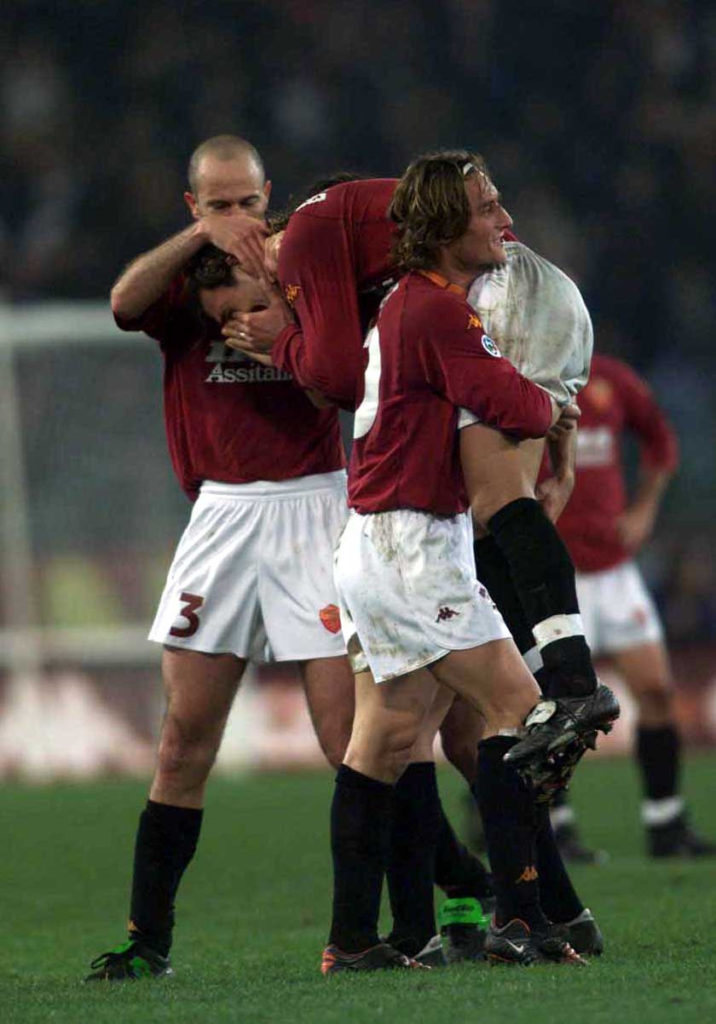 After the match he said: "In Florence, I became what I am now and those are things that cannot be forgotten. I hope that the Viola fans understand that. I think I paid my respects to them. I did not want to punish. Sometimes, though, we have to do things that we don't want to."
Six Alex Ferguson was an admirer and despite repeated transfer interest from Old Trafford, Batistuta's humility and grace got the better of him – a testament to the big man's character. "I would rather have won one title with a team like Fiorentina than ten titles with a team like Manchester United," he exclaimed.  .
Tactically gifted, industriously astute and strikingly prolific, Batistuta was a force to be reckoned with when in full flow. A once-in-a-lifetime player who relentlessly terrorized Serie A defenses without a second thought.
Before the World Cup in Russia, in May 2018, sports outlet Talksport offered its piece of mind on Batistuta, saying: "He struck shots with such violence you'd think he had a vendetta against balls and nets."
Such was his menace on the field.
What made Batistuta one-of-a-kind was his inspirational goal-scoring exploits for a rather underperforming team, along with his devotion to the Viola colors. The team from Florence did win a couple of cup titles but that was it. Never did they finish higher than third position.
The enigmatic Argentinian scored a formidable 207 goals in the purple shirt in 333 appearances. For Roma, he registered 33 goals in 87 appearances. And with the Nerazzurri, he scored just 2 in 12 caps. In total, the legendary striker amassed 432 caps and scored 242 goals for three Italian clubs.
He also remained his nation's top-scorer until Lionel Messi took over the record recently.
Fiorentina's Stadio Artemio Franchi once adorned a life-size bronze statue of Batigol, at the bottom of which is an inscription that read: "Guerriero mai domo. Durinella lotta. Leale nell'animo." – Which translates to "A warrior never subdued. Hard in battle. Loyal in spirit."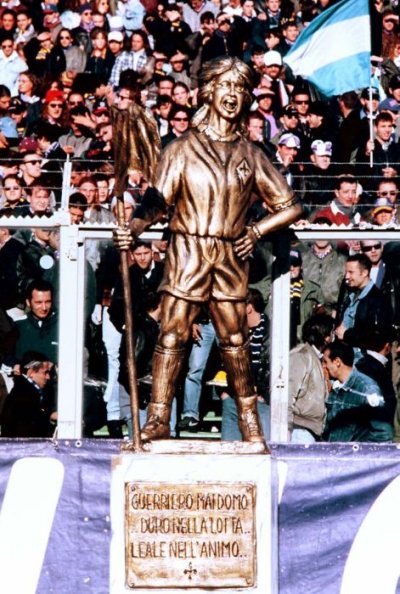 His move to the capital club prompted members of the Curva Fiesole to destroy the famous statue, that stood there for a good four years. But since then, the Fiorentini have made peace with their greatest ever goal scorer.
The mane-haired striker was inducted into Fiorentina's hall of fame in 2014. Rightly so, given the fact that he is a true Serie A icon and one of the greatest players to grace the beautiful game.