Major tournaments are often remembered with affection not only for the teams that won them, but also for those who made their mark on them through brilliant performances. The legendary Brazil side of 1970, the Argentina team of 1986, inspired by the great Diego Maradona, and even the superb Dutch national team of 1974, led by Johan Cruyff. All these three teams have one thing in common: They were absolutely breath-taking to watch.
Euro 2008 falls into the category of one such team, a team that revolutionized international football with its inventive yet devastating style of play. Spain, a nation that had been underwhelming on the international stage for so long despite always having a talented squad, simply blew away the rest of the teams at the 2008 European Championship, which was held in Switzerland and Austria. The innovative tiki-taka model of play made Las Furia Roja the kings of possession, as they simply mesmerized teams by passing and passing and passing their way to glory.
Spain were undoubtedly the focus of Euro 2008 for the reasons mentioned above; however, the tournament itself was a breath of fresh air for most fans and experts after the rather dull tournament in 2004 when Greece defended their way to the title. The unpredictability factor, coupled with the fearless mentality of most teams, led to many open ended games as teams played with freedom and were not afraid to attack. Late goals also added to the overall excitement of the tournament, with a remarkable 22 goals scored after the 80th of the game.
The Euro 2008 tournament format had remained virtually identical since its reintroduction in 1996, with only minor changes from the European Championship of four years ago. The only discernible change concerned the golden goal rule, which was scrapped once and for all after Euro 2004. In total, 16 teams had booked their place in the finals, including several returnees, a couple of debutants and one significant absentee. Of the absentees from the previous tournament, Romania and Turkey returned, while host nation Austria and Poland participated for the first time in history. England were the shock absentees after failing to qualify for the European Championship for the first time since 1984.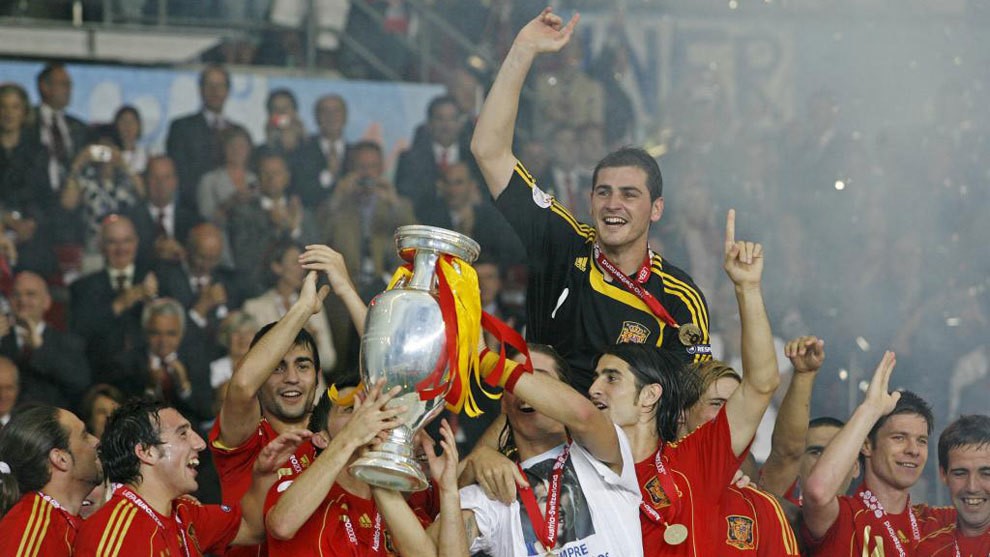 Before Euro 2008, Spain were always considered talented but fragile and with a sort of inferiority complex when it comes to major tournaments. Despite a history stretching back over 100 years since they became FIFA members in 1904, La Roja have only reached the Semi-Finals or a higher stage of the World Cup or the European Championship three times: in 1950, 1964 and 1984. But in 2008, Spain transformed themselves completely, with the change taking place more on the pitch than in the nation's mentality.
Spain's 2008 European Championship squad consisted of similar type of players to those in previous tournaments before: Short, tiny statue, none of whom were taller than six feet. However, the players like Xavi, Andres Iniesta, Xabi Alonso, David Silva, Santi Cazorla, Fernando Torres and David Villa were so much better than everyone else that they were able to lift Spain to a whole new level of performance, even though they remained to some extent a group of "small characters." This mold of players was a perfect crop for Luis Aragones' introduced tiki-taka style of play, characterized by short passing and movement without the ball, working it through different channels and retaining possession for as long as possible.
The tiki-taka playing philosophy was described as a new way for Spanish football to build on in the coming years. Aragones had always insisted that this style of play was the only way forward for La Roja. Spain's failures in the past may had been mistaken in most cases, as perhaps the national team was rarely as underachieving as it was constantly portrayed in the media. They just were not good enough to implement the tiki-taka properly. Perhaps the 2008 generation of players was the first one that was actually good enough to do so.
Spain began their Euro 2008 journey in Group D along with reigning European champions Greece, Sweden and Russia. In the opening match, La Roja faced Russia, who had sneaked out of their qualifying group as runners-up to England at the last moment. A hat-trick from David Villa led to an emphatic 4-1 win, an early sign that Aragones' men had come here to dominate. Two more 2-1 victories over Sweden and Greece followed to put Spain top of Group D with maximum points.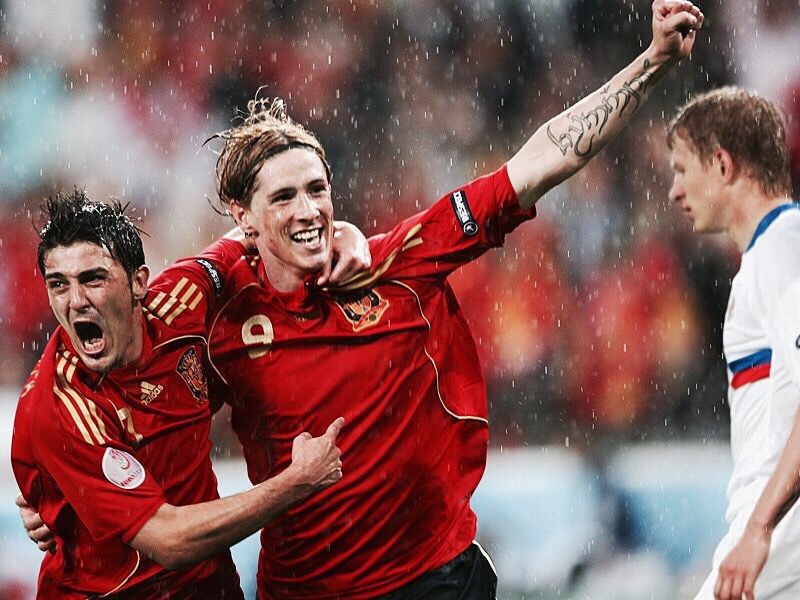 In the other groups, Turkey were the tournament's second-biggest entertainers, earning the name "kings of late comeback". A 92nd minute goal from Arda Turan against Switzerland kept Turkey's European Championship campaign alive and qualified them for their final group game against Czech Republic. Unfortunately, Turkey were already down by two goals after just an hour mark. Turan pulled a goal back in the 75th minute to give Turkey a glimmer of hope before Nihat's two goals in three minutes completed a remarkable turnaround and put Turkey into the last eight.
However, Turkey's magic did not end there. In the Quarter-Finals, they faced Croatia, who topped their group after a surprise win over Germany. The two teams served up a tense 118 minutes of football, but with one minute to go in extra time, it looked like Croatia would progress to the Semi-Finals when Ivan Klasnic put them ahead, but Semih Senturk levelled the score in the 122nd minute. Turkey's fairy tale continued as they beat Croatia on penalties to reach the Semi-Finals where they faced Germany. Sadly, the Turkish dream was shattered when Philipp Lahm netted the winning goal in the final minute of normal time to send Germany into another major tournament final.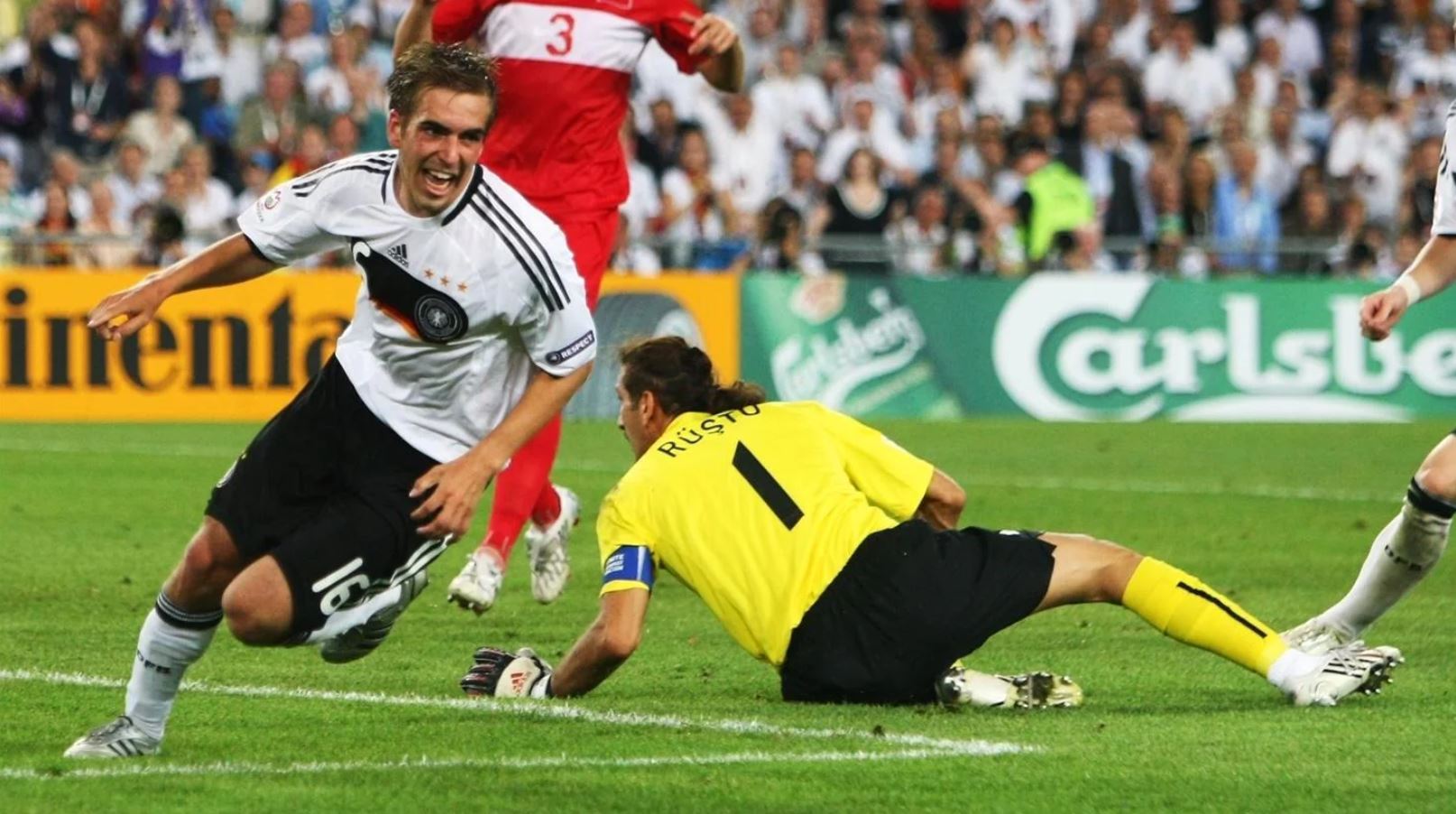 Spain and Italy faced each other in the final Quarter-Final of Euro 2008. With King Juan Carlos in the crowd, it was mainly Spain who took control of the game. Villa tested Gianluigi Buffon with a free-kick, but it was the biting Silva who posed the most danger. Seven minutes before half-time he fired just past the post after a blocked Torres shot had fallen into his path.
Shortly after the restart, Silva almost benefited from another Italian error when the ball was redirected into his path from eight yards. After a deft turn, Giorgio Chiellini had to intervene in time to prevent him from scoring. The Azzurri center-back put in a strong performance and slowly his teammates began to respond too. After just under an hour, a long ball caused chaos in the Spanish defense and ended up with substitute Mauro Camoranesi, who forced Iker Casillas into a brilliant save. In the end, Spain advanced to the Semi-Finals with a 4-2 win on penalties, with Cesc Fabregas converting the decisive spot-kick.
Russia were the final hurdle on Spain's road to their first major tournament final since 1984, the second meeting between the two teams after Spain's 4-1 win in their opening group game. Disjointed at the back and ponderous in midfield, the Russians struggled to find their feet as Torres almost had an early run through on goal, but a well-timed tackle by Vasili Berezutski denied the opportunity. Moments later, the then Liverpool striker tested goalkeeper Igor Akinfeev with a shot from a turn. Akinfeev had to intervene again to keep out Villa's shot at the near post.
After holding firm throughout the first half, the Russian defense finally collapsed five minutes into the second half when Xavi opened the scoring after clever interplay with Marcos Senna. For the next half hour, Russia offered little going forward, while substitute Daniel Guiza and Silva added two more goals to send Spain to their first major final in 24 years.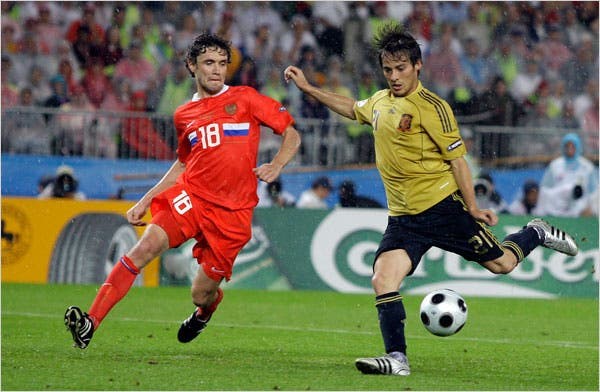 Spain became European champions for the first time since 1964 thanks to a first-half goal from Torres, beating Germany, who were seeking their fourth European title.
After a promising start from Die Mannschaft, it was Spain who exuded more danger and forced the oldest player ever to appear in a European Championship Final – Jens Lehmann – into an instinctive save to deny his own teammate when Christoph Metzelder unintentionally deflected Andres Iniesta's cross towards his own goal. Torres headed against the post before opening the scoring in the 33rd minute when the influential Xavi played a pass behind the German back line, Torres beat Philipp Lahm and lofted the ball over the onrushing Lehmann to the post.
Spain were well capable of extending their lead and had a number of chances to do so, but Germany remained dangerous and almost equalized after a combination between substitute Marcell Jansen and Bastian Schweinsteiger. Michael Ballack fired a shot that went just wide of the post. Despite failing to score a second goal, Spain were nevertheless delighted with their 1-0 win over Germany, which confirmed their rapidly growing status in world football.
Read the previous episodes of our History of the UEFA Euro:
1960, The Humble Beginnings
1964, Spain's Forgotten Glory
1968, A Year of Firsts and Lasts
1972, Dream Debut for West Germany
1976, The Year of The Panenka
1980, The Belgium Challenge
1984, Platini's Edition to Remember
1988, Van Basten and the Dutch Conquest
1992, The Denmark Fairy Tale
1996, Penalty Shootouts and Golden Goals
2000, France Shock Italy to Make History
2004, "Boring" Greece Stun Europe