In Round 22 of Serie A, the eyes of all Italian football fans were on the city of Bergamo as Atalanta hosted current league leaders and defending champions Inter in a bid to close the gap on the top spot.
Gian Piero Gasperini's side went into this game with high expectations that they could maintain this impressive attacking form after their thumping 6-2 win over Udinese. The reigning Serie A winners, on the other hand, were looking to record their ninth straight win and extend their lead at the top.
However, the game was not as high-scoring as some of us might have predicted, as both teams neutralised each other and had to settle for an unlikely 0-0 draw.
The following tactical analysis will break down the main patterns of play of both teams and explain the intricacies of their tactical approach to the game.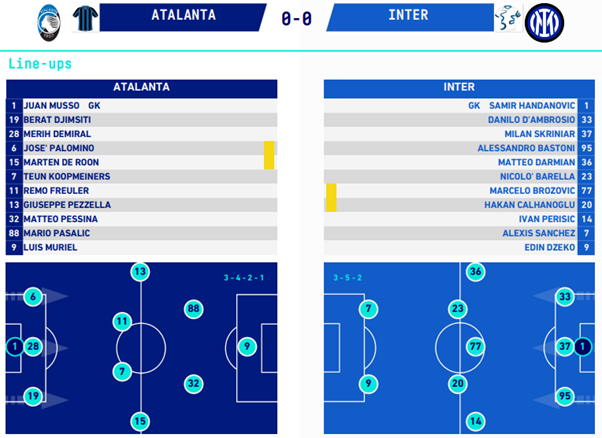 As for the teams' lineups, on paper both managers kept the same tactical formations they have used so far this season. Atalanta lined up in a traditional 3-4-2-1 (3-4-3), while Inter also went with a three-man defensive line, but in a more rigid 3-5-2.
Although it looked like Atalanta would play with a 3-4-2-1 (3-4-3) system, that was not quite the case, as Gasperini had to come up with a plan to deal with Inter's three-man midfield. Atalanta had its right wing-back Berat Djimsiti switch to the right-back position quite frequently, while Marten De Roon played more centrally to support Remo Freuler and Teun Koopmeiners in midfield.
Inter, on the other hand, made no such tactical changes and simply stuck with their traditional 3-5-2 formation. Wing-backs Matteo Darmian and Ivan Perisic occupied wide and high positions on the flanks, while the midfield trio of Marcelo Brozovic, Nicolo Barella and Hakan Calhanoglu remained very narrow and central for most of the game.
Tactical Analysis – Atalanta
Atalanta did not dominate this game with its possession play, registering only 36% possession in both halves. In the first half, the lack of control over the game was evident in La Dea's chance creation, which was uninspiring to say the least. The hosts recorded just 4 shots in total and only 1 shot on target in the first 45 minutes, which equated to 0.24 xG (Expected Goals). Things went a bit better in the second half, as Atalanta managed to create 2 big scoring chances and 5 of its 8 shots hit the target (0.90 xG).
In the first image below, we can see how Atalanta restructured their formation from a three-man back line to what at times looked like a 4-2-3-1. In this case, they evened the playing field in midfield by putting De Roon, Freuler and Koopmeiners against Inter's midfield trio.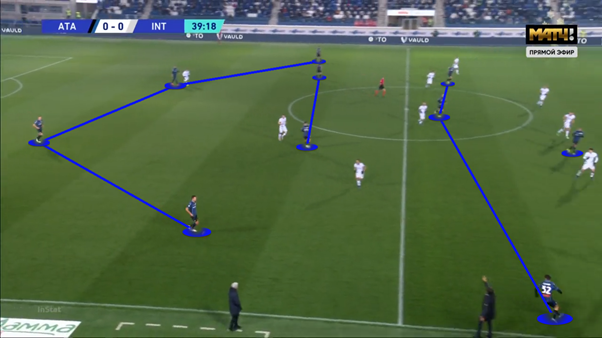 Atalanta, however, still struggled to break through Inter's defensive block. The Nerazzurri were able to cover the entire width of the pitch with their five-man backline and had their players defend man-to-man at the right moments to make it difficult for the hosts to play through.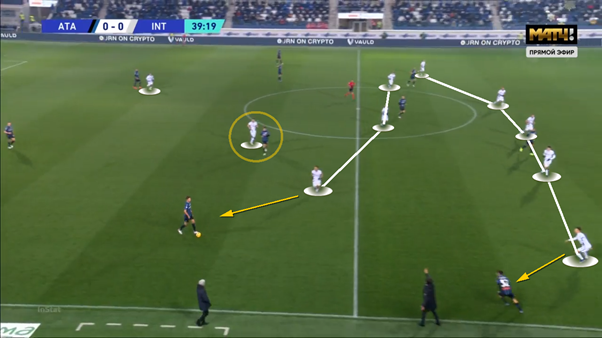 When Atalanta were unable to play through, they were often forced to recycle possession, playing it back to the defensive line or even the goalkeeper. Inter's high pressing was tight enough to prevent the home side from playing the ball out from the back with short passes, forcing them to occasionally go long.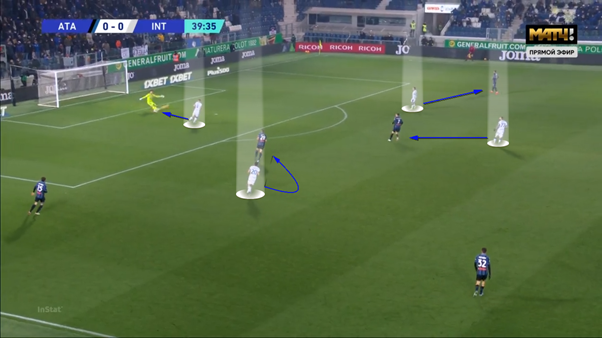 In this case, Atalanta's hope was to win the aerial duels, which they did better than Inter. The home team won 16 aerial duels compared to Inter's 9, which in turn allowed Atalanta to occasionally attack through the lines as Inter's defensive shape became disorganised and left too large gaps between the defence and midfield.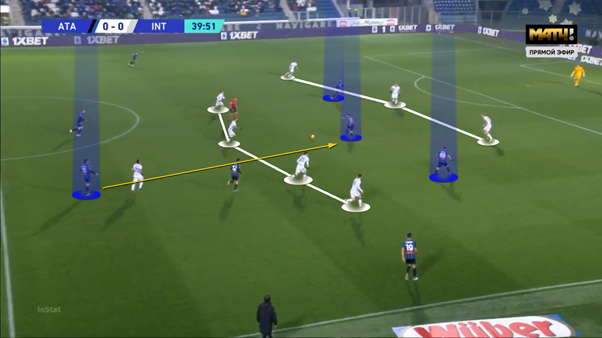 Tactical Analysis – Inter
Inter were not much more dangerous than Atalanta in the first half in terms of chances created. The reigning Serie A winners recorded only 3 shots on goal in the first 45 minutes, of which only 1 hit the target, which corresponded to 0.18 xG. Just like Atalanta, the Nerazzurri shifted up a gear in the second half and recorded 8 more shots, 2 of which were big scoring chances, corresponding to a value of 1.33 xG.
The Serie A leaders also had to use a long ball approach a few times as Atalanta matched with the Nerazzurri in midfield. But this is where Inter's plan to play through the wing-backs came into play, as they often had Perisic positioned very high up the pitch on the left, to whom these long balls could be played.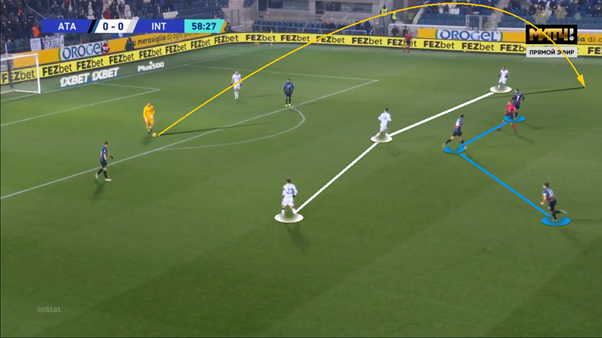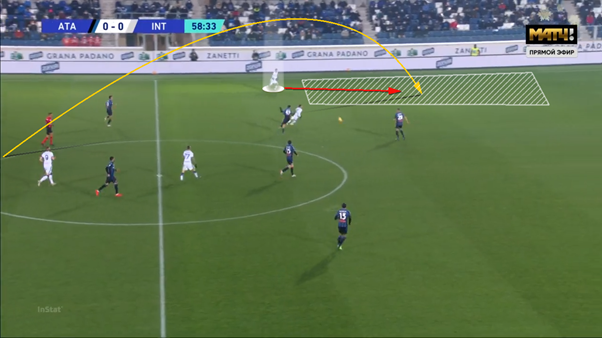 On other occasions, when Inter had possession in the middle third, they tried to overload one side of the field, drawing Atalanta's defensive block into the ball zone. This freed up spaces in the middle and on the opposite side, which Inter were able to exploit with an overload of players and a quick move into the final third.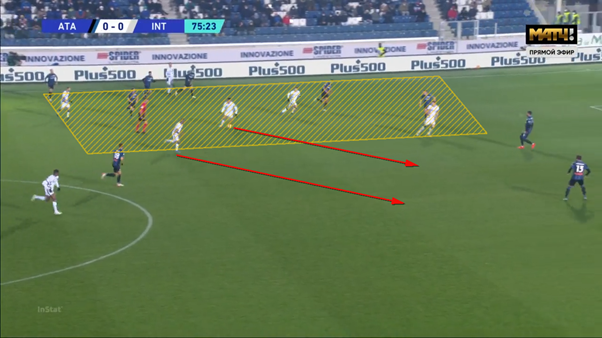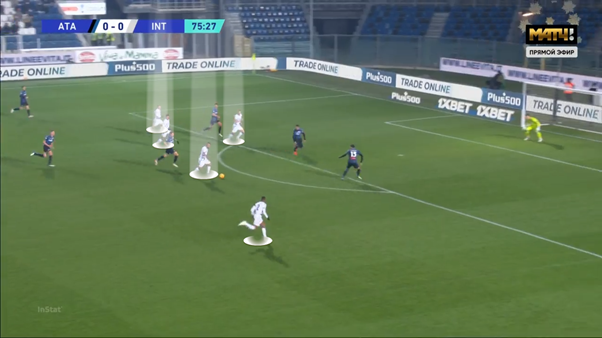 Expected Goals (xG) Statistics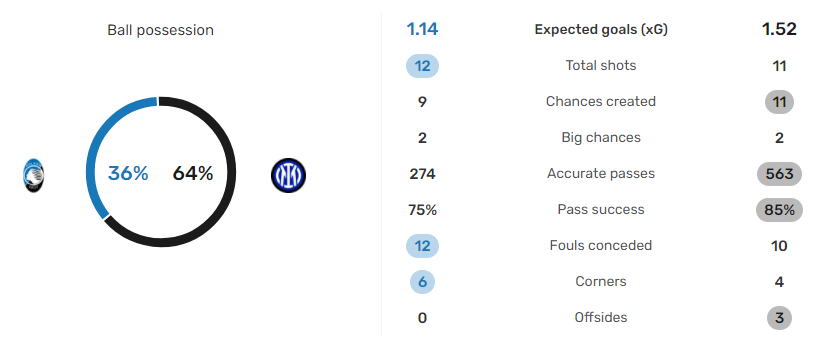 Conclusion
Inter had its own chances to win the game. Dzeko missed several good opportunities, while Musso denied Arturo Vidal and Danilo D'Ambrosio. Despite a hectic end to the game, neither team could find a winner and in the end they had to share the spoils.