Want to practice your Italian? Click here to read the original version of this article
Between the 1990s and the first decade of the 21st Century, the history of Juventus was enameled by the presence of a somewhat unique player. It was September 12, 1993 – 15 minutes before the end of a Serie A match against Foggia – when La Vecchia Signora fans got introduced to a Padua-born boy with the face of a nice guy and a sublime right foot. His name was Alessandro Del Piero.
On that day, little did Alex know about what fate had in store for him.
He was only 19 years old and he couldn't imagine that he was going to wear that same Bianconeri jersey for the next 20 years. He couldn't imagine that, at the end of such a long journey, his people were going to salute him in tears as they honored him with a standing ovation.
Juventus legendary president Gianni Agnelli named him Pinturicchio with a reference to a famous Italian Renassaince painter. It was a homage to his class and his enormous skills. Del Piero was the propotype of the perfect "number 10" of his days, with a right foot capable of giving the ball a unique curling effect.
Del Piero's free-kicks from the edge of the box would invariably end in the top side corner of the net – a perfect blend of beauty and efficiency – to score such type of goals that are still named after him nowadays. The goal alla Del Piero.
It didn't take long for Alex to make the Juventus fans fall in love with him. On December 4, 1994, in the last minute of a key game against Juve's arch-rival Fiorentina at the late Stadio Delle Alpi, Del Piero scored what is considered by many as the most beautiful goal in his career.
Left-back Alessandro Orlando whipped a long-range cross from his midfield line aiming at serving Del Piero who was running towards the Viola goal. Many believed Alex would try to stop and control the ball. Nobody could imagine that he was going for a volley – as he was running wide on the left flank and he was a natural right-footed player.
But Alex's skills in his prime were extraordinary. And so, despite the unfavorable position, he unconceivably (for many, not for him!) hit the ball with his outer right foot to drive it into the top right corner, past helpless Francesco Toldo who could only stand watching.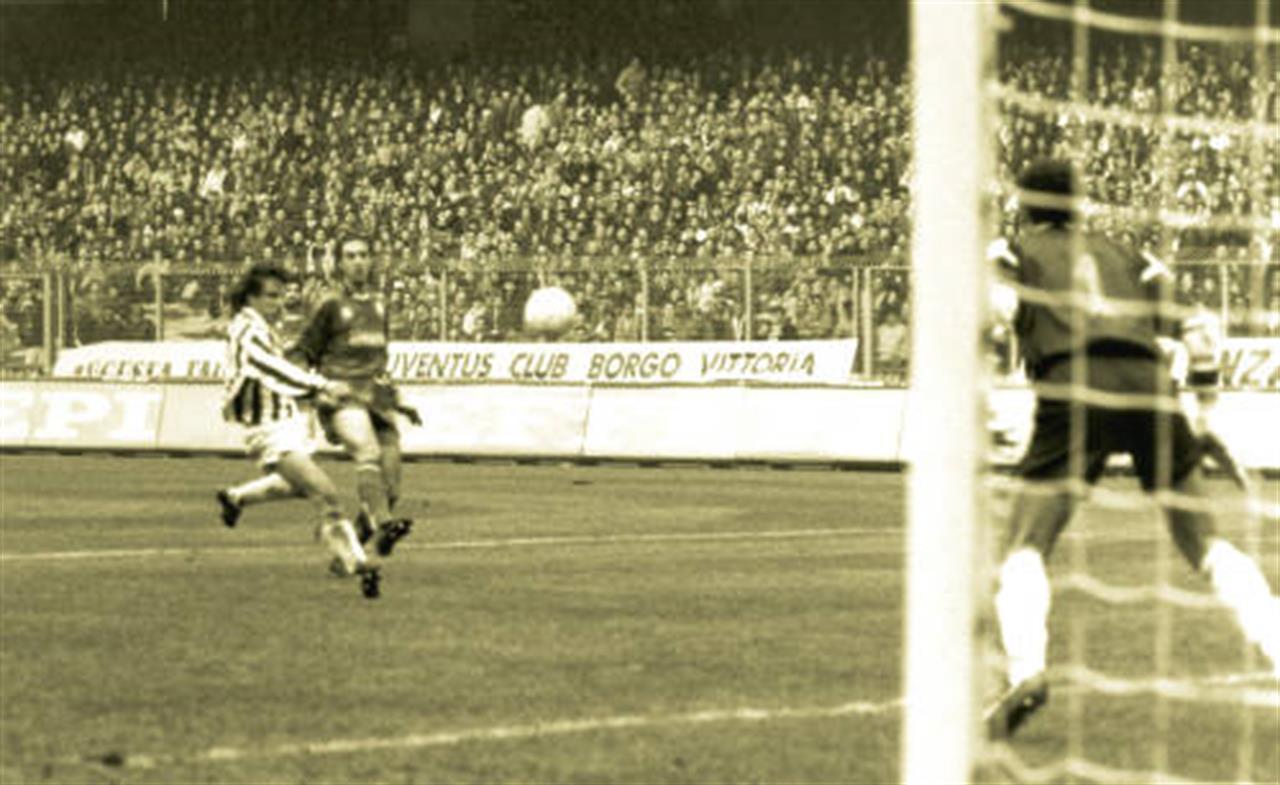 The following season set a turning point in Pinturicchio's career. Juventus were now well aware of his potential and decided to make him the cornerstone of their project, letting go no less that Roberto Baggio in the process.
On May 22, 1996, Alex clinched the European throne as Juventus conquered the Champions League – their last one to date – after beating Ajax on penalties in the Stadio Olimpico Final.
But, unfortunately, injuries soon started to get in Juventus' number 10's way. On that note, 1998 would be the worst season for him. During a match at Udinese, Del Piero ruptured his left knee cruciate ligament and was forced to abandon the season after just eight games to undergo surgery in the U.S.
The following summer, he would get a "consolation prize" as Juventus offered him to renew his contract at an extraordinary wage of 10 billion Italian liras per year. He was the most paid football player of his days.
The 1998-99 season, however, would be another though one for Del Piero. His performances on the pitch didn't seem to be at the same level of his previous campaigns. There were some growing concerns that the injury had deeply affected his skills and confidence. To make things worse, Juventus lost the Scudetto at the hand of Lazio, who overtook the Bianconeri right in the last matchday as they lost 0-1 in Perugia thanks to Alessandro Calori's lone goal under a pouring rain.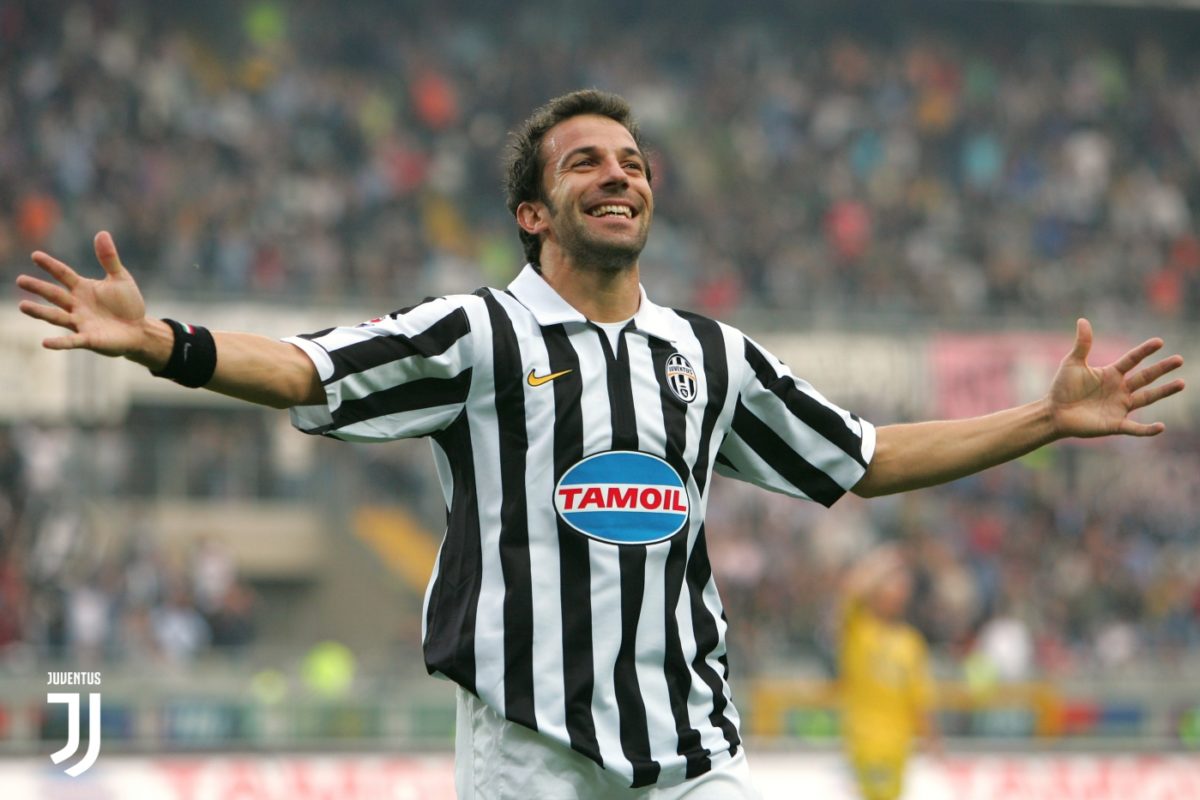 Alessandro's rebirth would come in 2001, when Marcello Lippi – the coach who nurtured him in his early days – came back at the helm of Juventus and made him captain. In that season, he ended up forming the most effective striking pair in Europe alongside David Trezeguet as they scored a combined 40 goals.
On top of that, Del Piero led Juventus to conquer a new Scudetto in the day of the notorious Cinque Maggio of Inter. He scored one goal and served one assist to help Juventus dismantle Udinese in the last Serie A match-day and overtake in the last lap Inter as the Nerazzurri committed suicide by losing 2-4 to Lazio.
But more than that, there is another event that indissolubly sealed Del Piero's fate to that of Juventus and made him an all-time fan favorite. It happened during the dark days of Calciopoli – the match fixing scandal that resulted in the Bianconeri's demotion to Serie B. Many players promptly abandoned the ship, but Alex was one of the few (alongside Gianluigi Buffon and David Trezeguet) who decided to stay and bring Juventus back to where they belong.
While his greatest career success is surely winning the World Cup with the Azzurri in 2006, Del Piero can also boast some very personal achievements like receiving a standing ovation from the Santiago Bernabeu attendance when he left the pitch after bagging a brace against Los Merengues.
After winning yet another Scudetto with Juventus, on May 13, 2012 he left the pitch of the Juventus Stadium right after scoring his 209th goal for the Bianconeri in a match against Atalanta. He received an emotional farewell as the whole stadium stood up to applaude him. It was the last time they would see him playing with a white-and-black jersey.
Pinturicchio has been one of the most beloved Italian players outside of the Belpaese – not only for his skills as a footballer, but also for the humanity he showed in multiple occasions both on and off the pitch. As he once summed up:
"I'm proud of my father who used to work his backside off as an electrician and of my mother who worked as a cleaner in every single house of our hometown Conegliano. I am super happy to have had a childhood in which our wishes were proportionate to our possibilites. And when the good weather came and you could start to go out, to steal cherries and corn cobs, my beloved ball was always with me. It was amazing."
Alessandro Del Piero is one of the strongest and cleanest player we ever had the pleasure to witness and his name will continue to echo on every Serie A pitch every time that somebody, from the edge of the box, will come up with some curl shot to make the ball end right in the top corner of the far post – scoring alla Del Piero.